WIND MAKES CLEVELAND COOL
The winds of change are blowing across Northeast Ohio.
With luck and hard work, by 2012, those winds will be spinning five wind-power turbines rising out of Lake Erie off of Cleveland – set to be the world's first freshwater wind farm. Those skyscraper-tall turbines could power thousands of homes. More importantly, they could help power Cleveland's economy and generate jobs. They're already generating hope.
The Cleveland Foundation has made a priority of building a 21st-century advanced-energy industry here. Now, we and many corporate and government-sector partners appear to be moving the needle.
In 2010, our $700,000 grant to the regional economic-development nonprofit NorTech helped it launch the Lake Erie Energy Development Corp., or LEEDCo. In turn, LEEDCo executed a deal with GE, Bechtel, and other partners to develop this new freshwater wind farm.
The project will be a proving ground for new wind-power technologies, particularly in the offshore niche. Northeast Ohio is well suited to develop, manufacture, and service those machines, thanks to abundant expertise in engineering, composites, and hydraulic technologies. We envision the region becoming a global leader in a booming industry that already accounts for $46 billion in revenues and 400,000 jobs worldwide.
Wind power is just one innovative opportunity that the Cleveland Foundation is helping to cultivate on the region's horizon.
INCUBATING INVESTMENTS AND JOBS
With the foundation's support, NorTech is also helping to build other robust tech industries here, including flexible electronics – the bendable, energy-efficient computer screens of the future being developed here today.
Bioscience has emerged as another cluster of expertise that we're proud to nurture. BioEnterprise, the business-growing partnership in University Circle, is drawing acclaim as a new way to commercialize biomedical research and launch young companies. Our grants, including $800,000 in 2010, help BioEnterprise connect health-care startups to investors, expertise, and research. The nonprofit has helped create or recruit 100 companies to Northeast Ohio, and has attracted more than $1 billion in investment capital.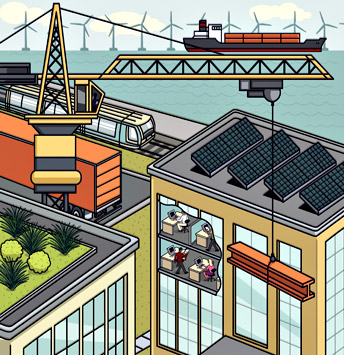 JumpStart is another national model. Today, about two of every three new jobs are at firms younger than five years old. JumpStart is a nonprofit that helps entrepreneurs create jobs by providing their startup firms with money, mentors, and financing connections. One example of JumpStart's leveraging power is its $550,000 investment into an infection-fighting company called Great Lakes Pharmaceuticals. This investment paved the way for almost $4 million in private capital.
We have $2 million in JumpStart's venture-capital fund, and we granted $750,000 in June 2010 for its operations. Others share our faith: An independent study in 2009 valued JumpStart's annual economic impact at $90 million.
The foundation also is committed to building minority-owned businesses. We awarded $250,000 to the Greater Cleveland Partnership's Commission on Economic Inclusion for the Minority Business Accelerator 2.5+ initiative to grow the region's largest minority business enterprises. Another grant of $150,000 will help the commission provide growth capital to minority-owned companies.
Learn more at www.ClevelandFoundation.org/Economy