Summer is halfway done and I am enjoying the rooftop garden at the Mandel Community Studies Center at Case Western Reserve University, gaining some inspiration for my summer as a research assistant for the National Initiative on Mixed Income Communities (NIMC).
After I manage to say the long name, the first question I get from others is, "what are mixed- income communities?" Mixed-income housing is a development that includes public housing, affordable housing and market rate units in varying percentages. These developments are a way to break down concentrated poverty and combat segregation of the poor, which often coincides with racial segregation. The ultimate goal of mixed income communities is to bridge various diversity gaps by bringing together people of different backgrounds. Mixed-income development is a growing policy initiative that started with President Clinton's HOPE VI. It was expanded and revitalized with President Obama's Choice Neighborhoods Initiative, which adds emphasis on sustainable development and takes a deeper look into the surrounding neighborhood to create comprehensive community development. In addition to housing development, the Choice Neighborhood Initiative considers other aspects of community such as schools, healthcare facilities and recreation areas.
Because mixed-income housing is a relatively new concept with lofty goals, there has been little research done on best practices. NIMC is working to change that, conducting research on mixed-income communities to determine what's working and what's not. As a consultant, NIMC is helping The Community Builders (TCB), a nonprofit developer, revitalize the Commodore building in University Circle. In my role at NIMC, I will help conduct resident needs assessments for the project. I am also working as an assistant for the Cleveland Effective Neighboring Project, which looks at diverse Cleveland neighborhoods to see how they bridge gaps between people of different backgrounds. NIMC hopes to create a model of effective neighboring that can be applied to other neighborhoods, including mixed-income communities. I am extremely excited for this project because I will see a wide range of neighborhoods and methods of community building. It has already allowed me to engage with a diverse group of Cleveland citizens, and we are in the midst of creating a Facebook page for people to learn about the project and participate in these conversations about neighboring.
Research has taught me something valuable: patience. Anyone who knows me can attest to the fact that I hate sitting still and that I always need to be doing something. Collecting data, designing the research process, checking and double checking – it all takes time. I like to get things done as fast as possible and move on to the next task, but research has taught me to balance my desire to be efficient with the need to be thorough and, most importantly, to slow down and learn through the process.
This research experience is also valuable as it relates to my interest in public policy and advocacy, especially surrounding homelessness and poverty. Research can determine what policymakers do and what advocacy efforts are made. As mixed-income communities become one of the leading reforms to address poverty, it is important that policymakers know how to make these communities work effectively, and that advocates know how best to promote them. As I learn more about these intersections, I continue to see how many important policy changes and advocacy efforts in this country have resulted from the persistent work of a research team. I am thankful for the opportunity I have this summer to gain a new perspective and deepen my understanding of the process of affecting social change.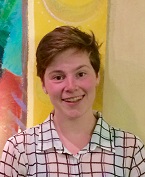 Danielle Dickinson, a senior at Wheaton College double majoring in Women's and Gender Studies and Political Science, is a Porter Cleveland Fellow placed at the Mandel School of Applied Social Sciences at Case Western Reserve University. Danielle assists with the National Initiative on Mixed Income Communities, researching and evaluating current projects using qualitative data collected at the three test sites in Cleveland. Danielle works to develop and promote an intervention model for "effective neighboring."