What do you want for your future city, and how can you make it happen? That was the focus of the Future of Cities Week at Chautauqua Institution, presented this year by the Cleveland Foundation in partnership with The City Club of Cleveland. Throughout the week of August 1 – 5, Cleveland Foundation staff and community stakeholders traveled to Chautauqua Institution in New York to participate in a series of special programming aimed at sparking community dialogue about the kind of cities we want to create in the future, and showcasing the innovative work already underway in Greater Cleveland to sustain our city into the future.
Cleveland Foundation board members, donors and community partners joined fellow Chautauqua visitors and residents at events hosted by TCF throughout the week. Get a glimpse of the week in pictures:
A warm welcome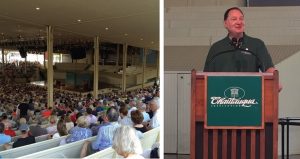 Cleveland Foundation President & CEO Ronn Richard kicked off the Future of Cities Week by addressing thousands from the Chautauqua community at the main amphitheater on Monday morning, introducing the audience to the Cleveland Foundation and inviting them to participate in a series of special events during the week.
Gathering in Chautauqua's public square  

Throughout the week, TCF staff set up shop in the center of the institution at Bestor Plaza, where Chautauquans were invited to share ideas for their future city by writing on a large cityscape. Visitors were eager to engage in meaningful conversations with foundation staff about their ideas, and many shared stories about their connections to Cleveland.
Daily Fred Talks about the future of Greater Cleveland
Monday through Thursday, we invited the Chautauqua community to talk and think with us during a lunchtime Fred Talk, named in honor of our founder Frederick Harris Goff and hosted by The City Club of Cleveland CEO Dan Moulthrop. Our first Fred Talk of the week, "Connected Cities," drew a standing-room-only crowd to hear Ronn Richard talk about the importance of developing a strong IT economy and infrastructure in Cleveland.  Throughout the week, more than 800 Chautauqua visitors and residents attended the four Fred Talks.
Tuesday's "Artistic Cities" Fred Talk drew another packed audience to hear Cleveland Foundation Program Director for Arts & Urban Design Lillian Kuri in conversation with Fred Bidwell, president of the Fred and Laura Ruth Bidwell Foundation, and Raymond Bobgan, executive artistic director of Cleveland Public Theatre, about the important role of the arts in community development and placemaking.
Cleveland Foundation Program Director for Community Development India Pierce Lee, Global Cleveland President Joe Cimperman and Geis Companies Co-Founder and Owner Fred Geis spoke about inclusive community development and encouraging immigration to Greater Cleveland at Wednesday's "Welcoming Cities" Fred Talk.
Thursday's "Green Cities" Fred Talk featured Lake Erie Energy Development Corporation (LEEDCo) President Lorry Wagner and Cleveland Metroparks CEO Brian Zimmerman in a discussion about what's being done in Greater Cleveland to protect, preserve and enhance our city's greatest natural resources for the future.
Interfaith Lecture
Rev. Dr. Stephen Rowan, Cleveland Foundation board chair and senior pastor at Bethany Baptist Church, and Rabbi Robert Nosanchuk, senior rabbi of the Anshe Chesed Fairmount Temple, participated in a conversation with Ronn Richard about the past, present and future role of diverse faith communities in Greater Cleveland. Find a recap of their conversation, part of Chautauqua Institution's Interfaith Lecture Series, here.
Anisfield-Wolf pays a visit
Since 1963, the Cleveland Foundation has administered the Anisfield-Wolf Book Awards, the only American book prize focusing on works that address racism and diversity. At Chautauqua, we hosted an Anisfield-Wolf author presentation with Adrian Matejka, 2014 Anisfield-Wolf winner for poetry. Anisfield-Wolf Book Awards Manager Karen Long interviewed Matejka, whose published works include The Devil's Garden, Mixology and The Big Smoke. Karen and Adrian discuss the book awards and more here.
Pulling it all together
On our final day in Chautauqua, we hosted "Building the Future City," an interactive reflection and dialogue session wrapping up the week of programming. At the session, attendees convened around the issues they are most passionate about, to discuss learnings from the week and how they can help to shape the future of their cities. Learn more about the "Building the Future City" session here.  
The Cleveland Foundation found a kindred spirit in the Chautauqua Institution community. The Future of Cities Week spurred thoughtful discussions on a variety of topics related to the future of our communities. We look forward to continuing the important conversations begun during the week, and hope Chautauquans will do the same.