Our #SummerOfPurpose blog series follows this year's Cleveland Foundation Summer Interns as they spend 11 weeks working with Cleveland-area nonprofit and public sector organizations. In today's blog we hear from Heather Smith, who is working with the Cleveland Rape Crisis Center, where she researches and writes educational content about the prevention of sexual violence, self-care, and CRCC's programs while developing social media content to engage local college students during on-campus orientation.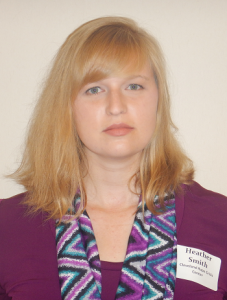 Heather Smith   
College: The College of Wooster              
Hometown: Shaker Heights, Ohio
Internship Host Site: Cleveland Rape Crisis Center
I only knew one thing for sure about my post-grad plans: I wanted to be in Cleveland. So when I read about the Cleveland Foundation's Internship program I was sold.
I've lived and breathed Cleveland my whole life. And while I will always cherish my four years at the College of Wooster, I was ready to go home to the 216.
At first I was skeptical I would ever find a job that fit my skillset. As an Economics and Women's, Gender, and Sexuality Studies (WGSS) double major, I don't exactly have a career path that is expected of me. I have the hard skills of an Economics major with the passion for social justice of a WGSS major. But when I saw that the Cleveland Foundation had an internship program that not only allowed me to return home, but do something I'm truly passionate about, I knew I found the right placement.
When you apply for this internship you send in the regulars—resume, recommendations, transcript—but you also send in a personal essay outlining why you want to and should have the position. I tailored my essay to target my desire to work for Cleveland Rape Crisis Center. While any of the other host sites would have been amazing, I knew that CRCC is where I would thrive the most.
The job description fit all of my career goals: be in Cleveland, contribute towards a cause I'm passionate about, and be in either the public or non-profit sector. I knew I would have a lot to learn, but I also knew I would have a lot of room to grow.
I've been able to write articles for the website that are specific to survivors' circumstances, brainstorm ideas for social media and marketing, and create my own projects. But I've also learned how nonprofits operate, why resource development is just as important as the front lines, and that Cleveland Rape Crisis Center has one of the most loving and supportive work environments I've ever been a part of. When you dedicate your life to a cause that is so pressing and so important, you create a bond with those others that have the same passion as you. That's the beautiful thing about the Cleveland Rape Crisis Center: there is no question about why people work for and are drawn towards the organization. Everyone is there for the same reason—to support survivors of rape, sexual abuse, and sex trafficking and work to eradicate its presence in Cleveland.
It hasn't just been the Cleveland Rape Crisis Center that has made this summer incredible either. The Cleveland Foundation not only gave my cohort and me a platform to grow as young professionals, but to grow as Clevelanders. Through our weekly professional development sessions I've learned more about the city of Cleveland and the amazing things happening here than I could have ever hoped to learn on my own. Through my interactions with the other interns and their host sites, I've expanded my network and knowledge of organizations I'd never even heard of before.
Having this internship has only solidified what I already knew deep down: I am a diehard Clevelander and always will be. Come fall, I'll begin a Master of Public Administration with a focus in Non-Profit Management at Cleveland State University's Maxine Goodman Levine College of Urban Affairs (a creation of the Cleveland Foundation). So look for me around town! Probably at the East 9th street pier or the Flats, munching on a taco and talking about ways to improve the social and economic climate for all citizens of our dear city.