Our #SummerOfPurpose blog series followed this year's Cleveland Foundation Summer Interns as they spent 11 weeks working with Cleveland-area nonprofit and public sector organizations. In today's blog we hear from Cheyanne Martin, who worked with the Maltz Museum of Jewish Heritage, where she researched, created materials, and contacted participants involved in the Summer New Docent Training (NDT) and Special Exhibition Docent Training. She also assisted in the development of child/family friendly programs and tour updates.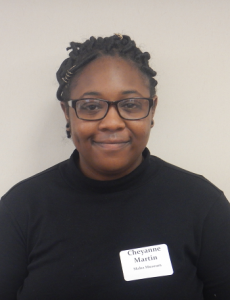 Cheyanne Martin
College: Eastern Michigan University
Hometown: Cleveland, OH
Internship Host Site: Maltz Museum of Jewish Heritage
How did you first hear about the Cleveland Foundation Summer Internship Program?
I first heard about this program through College Now Greater Cleveland. They have been a great support throughout my educational career and have helped me with scholarships, networking opportunities and internships. They sent me an email about the Cleveland Foundation Summer Internship Program, so I applied and the rest is history.
What has been the most valuable aspect of your internship experience?
The most valuable aspect of my internship has been learning about different organizations in Cleveland and the work they are doing to help their communities. I have been extraordinarily inspired by the work that organizations like the Cleveland Foundation, Maltz Museum of Jewish Heritage, Global Cleveland, College Now Greater Cleveland and many more have been doing. I think it has helped me organize my passions and figure out what I would like to do to enhance the future of Cleveland.
When you're not working, what do you enjoy doing around Cleveland?
I enjoy hanging out with friends in University Circle, going to the Cleveland Art Museum, MOCA, and The Western Reserve Historical Society.
What are your career goals after college?
I am entering my final year of undergraduate study at Eastern Michigan University. After graduation, I plan on working towards a Ph.D. in Art History and eventually becoming a curator of Contemporary Art with a specialization in photography. In addition to that, I would like to make it my life's work to push the conversation on arts advocacy, museum education advocacy and the empowerment of minorities in the art & music business.
How has this internship helped you grow professionally? 
This internship helped me grow professionally by offering the space to network and giving me the opportunity to communicate with a multitude of people in a variety of organizations. I feel that my networking skills have improved greatly, as has my knowledge of the law as it pertains to nonprofit organizations.
How has this internship helped you grow personally? 
I have grown personally in many ways thanks to this internship. When I began my summer, I was unsure about a lot. I was worried about who I would be in this cohort and whether I knew as much as the other interns. I was unsure about what was going on in Cleveland since I hadn't been here in almost two years. I also didn't know how I planned to contribute to the Maltz Museum of Jewish Heritage. Going through this internship has given me a confidence that I didn't have when I began. I have grown to know that what I have to say has value and it matters. I am also exceptionally thrilled that I went through this experience with some of the most intelligent young professionals I have ever met. I've learned such amazing things from my peers and it has helped me to grow in knowledge and understanding of others.
What advice would you give to someone considering applying for the Cleveland Foundation Summer Internship program?
Don't doubt yourself! Everyone has something special to offer and everything that you are passionate about is important. I've met so many people who already decided they weren't cut out for something before trying it, or who didn't believe they could succeed in something like this. I think everyone should go for it. It's a wonderful program and it really opens your eyes to the changing world around you.