January is #NationalMentoringMonth, and to celebrate we're sharing the stories of local mentors who are helping to guide the next generation. In this guest blog, Joy Johnson – a #True2U mentor working with Cleveland Metropolitan School District students – shares her experience: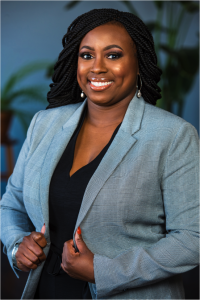 Name: 
Joy Johnson
Employer/Profession:
Associate Director of Burten, Bell, Carr Development, Inc.
Years Mentoring with True2U:
Three years
How did you first learn about True2U? 
I first learned about True2U through the MyCom Youth Development Initiative.  My employer is a neighborhood lead agency for this program and MyCom shared a request for mentors for True2U.
Why did you decide to volunteer as a True2U mentor? 
I decided to volunteer as a True2U mentor as a way to give back to the Cleveland Metropolitan School District as an alum. I also wanted the opportunity to connect with students at Anton Grdina School. I saw it as a way to strengthen the relationship between my employer and the school, as we are the lead nonprofit partner for the school.
What is the most rewarding part of being a True2U mentor? 
The most rewarding part of being a True2U mentor is seeing a student's eyes light up when a concept suddenly "clicks" in their head. I also enjoy the students' curiosity and being able to help them find answers to their questions.
In which school do you currently mentor?
I currently mentor at Dike School of the Arts, where my daughter is enrolled as an 8th grade student.
Please share a favorite story or anecdote from your time as a mentor:  
I like running into students out in the community and recognizing them from True2U. Even if I don't remember their names I will call out "Hey True2U!" to get their attention. It's great to hear how their high school experience is working or not working for them and what they are doing to adjust. I also try to keep them involved in other programs such as summer employment and internships when applicable.
Why would you recommend this opportunity to others? 
I would recommend True2U to others because it is a great opportunity to have a meaningful positive impact on the lives of 8th graders in CMSD at a critical point in their school careers and their lives. True2U is very well organized and structured so it makes the idea of mentoring in CMSD schools much less intimidating. CMSD is unique for the region that it allows students to choose a high school based on their area of interest and not solely on where they live. A True2U mentor plays a critical role in this decision making process for Cleveland's 8th grade students.
Do you have any advice for someone who is thinking about becoming a True2U mentor?  
My advice to anyone who is thinking about becoming a True2U member is JUST DO IT!  You won't regret it!