From August 31 through September 4, thousands of people joined us for a week-long series of virtual events to celebrate an annual meeting unlike any other in the Cleveland Foundation's history. Dozens of speakers, including foundation staff members, community partners and national thought leaders, shared their expertise and led timely conversations on defining issues. We also announced several new commitments that will shape the foundation's work in the years ahead. In case you missed it, here are a few highlights and takeaways from Cleveland Foundation Annual Meeting Week Presented by KeyBank: 2020 Community Vision.
2020 community vision
Centering the week's programming was the 2020 Cleveland Foundation Annual Meeting Presented by KeyBank on Sept. 1. Cleveland Foundation President & CEO Ronn Richard delivered his annual "State of the Community Address" – this year, in a video format. In his address, Ronn reflected on the historic challenges that our community has faced so far this year as well as the momentous opportunity to rebuild stronger than we were before the pandemic. You can watch Ronn's full State of the Community Address on our YouTube channel here.
Following Ronn's remarks, Cleveland Foundation staff members joined community partners in 10 separate breakout sessions focused on a variety of topics:
You can watch recordings of all the sessions on our YouTube channel here. 
New commitments to help our community move forward
Throughout our annual meeting week, we shared a number of new grants and funding commitments:
Take your vision to action with ioby & Neighbor Up
On Sept. 2, we partnered with ioby and Neighbor Up to put the spotlight on a group of engaged residents who took action through organizing and fundraising to help their communities. If you're interested in turning your vision into action to benefit the community, connect with ioby and Neighbor Up at an upcoming event:
Become a Cleveland Documenter
The decisions being made by city and county officials are more important than ever, but the vast majority of meetings where these decisions are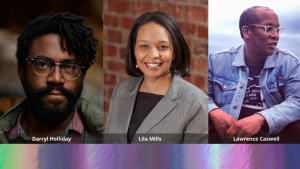 made receive no media coverage and produce minimal records. As part of our annual meeting week, we co-hosted an open house workshop with City Bureau and Neighborhood Connections on Sept. 3 to introduce Cleveland Documenters, a one-year pilot program to recruit, train and pay Greater Clevelanders to document official meetings of the Cuyahoga County and City of Cleveland governments in an effort to promote accountability and transparency and to expand the toolbox for residents to take action in their communities. If you're interested in becoming a Cleveland Documenter, you can learn more here.
Watch this year's Robert D. Gries Keynote Lecture at The City Club of Cleveland: The State of Local Journalism
This year's Robert D. Gries Keynote Lecture featured national thought leaders Karen Rundlet, Director for Journalism at the Knight Foundation, and John Thornton; venture capitalist, Founder of The Texas Tribune, and Co-Founder of the American Journalism Project; in a conversation on the state of local journalism in America. If you weren't able to tune in to watch the broadcast live, you can view a recording of their conversation here.
Join fellow Ohio funders at Philanthropy Forward 2020
As part of our annual meeting week event line-up, we hosted "Uniting Communities Through Change" in partnership with Philanthropy Ohio. The event featured leaders from community foundations in Dayton, Minneapolis and Cleveland discussing the role of funders in responding to crises in their communities. The conversation around the role of philanthropy in responding to seminal moments will continue later this month at Philanthropy Forward 2020, a streamlined, virtual version of Philanthropy Ohio's annual conference. If you're a member of Philanthropy Ohio, there's still time to register here.
Save the date
The Cleveland Foundation's signature community events continue virtually this season with Cleveland Book Week, including the 85th Annual Anisfield-Wolf Book Awards, Sept. 27 – Oct. 4. Stay tuned as we announce more details and event registration!