By Tony Costanzo, AT&T Director of External Affairs for Cleveland
This fall, I was proud to join more than 100 of my AT&T colleagues in assembling 625 STEM kits for kids who participate in programs through the Boys & Girls Clubs of Northeast Ohio (BGCNEO).
Now, we didn't tackle this big project in person, of course. Due to COVID-19, my co-workers and I volunteered to put the kits together in our homes, and then send them to the Cleveland Foundation, which generously offered to deliver them throughout the city.
This collaboration between the Cleveland Foundation and AT&T is part of our company's ongoing Believe Cleveland℠ initiative, which is aimed at digital literacy and helping residents enhance their computer and internet skills.
The STEM learning kits that are now in the hands of BGCNEO students include lesson plans, wires and batteries, and other materials, as well as hand-written notes of encouragement from AT&T employees.
Because of the pandemic, BGCNEO has pivoted its operations to provide in-person and tech help for kids in digital education environments. The nonprofit has opened 16 ClubSmart Learning Centers – places where kids can get help during the school day – throughout Northeast Ohio.
BGCNEO President and CEO Jeff Scott tells me that kits like these are important, as the organization looks to bring as many learning tools as possible to their local clubs and to those who are studying remotely. He shares his appreciation that AT&T and the Cleveland Foundation found a safe way to assist kids and ensure that its education efforts continue and grow.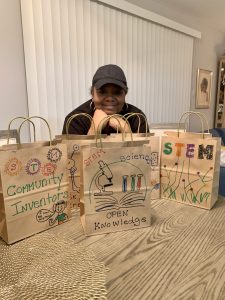 Personally, I'm excited that we've been able to continue the Believe Cleveland momentum from home. Since 2019, we've contributed nearly $700,000 to organizations like the Cleveland Foundation for their digital literacy efforts. We're grateful to the Foundation and the Boys & Girls Clubs for all that they do to empower youth every day to become better people and better prepared for the future.
Believe Cleveland is an extension of AT&T Believes℠, a larger company-wide initiative, which aims to create positive change in local communities. To learn more about AT&T Believes initiatives across the country, please click here.