Our #SummerOfPurpose blog series follows this year's Cleveland Foundation Summer Interns as they reflect on 11 weeks spent working with Cleveland-area nonprofit and public sector organizations. In today's blog we hear from Hannah Xu, who spent her summer with Social Venture Partners (SVP) Cleveland, where she supported nonprofit engagement efforts, including partnerships with Black, Indigenous and people of color-led nonprofits and those serving Black and Brown communities.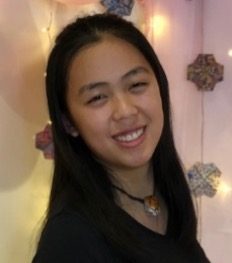 Name: Hannah Xu
College: Case Western Reserve University
Hometown: Winnetka, IL
Internship Host Site: Social Venture Partners (SVP) Cleveland
Why did you initially decide to participate in this internship program?
When I was deliberating on how to spend my summer, the Cleveland Foundation Summer Internship Program's lovely internship coordinator, Stephanie Molnar, convinced me that this program would be more than just learning skills. With the civic immersion and networking sessions, I would be able to meet more people while learning more about different roles in the nonprofit and philanthropic sectors. 
I also loved how SVP had a clear commitment to equity in their work prior to 2020 and wanted to learn more about how to move an organization forward through an equity lens.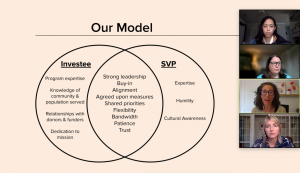 What has been the most valuable aspect of your internship experience?
The most valuable experience has been seeing the posture of learning that SVP Cleveland staff have towards equity, power and privilege in philanthropy. During the first few days of the internship, I had so much fun just reading articles that the SVP staff gave me about these topics. I loved being given the freedom to research something related to equity and power more in depth on my own if it piqued my interest in an article. Before this internship, I had never thought about the inherent power imbalance in philanthropy between funders that have the money and the grantees that are applying for it. It was fascinating to see how SVP is working on making the relationship between funder and grantee more collaborative, acknowledging and building on all the expertise and answers that grassroots organizations have to solve problems.
Building on what I was learning through reading, I am also able to observe how SVP is working with a third-party equity consultant, Gradient A Human Equity think tank. It has been very interesting to see how a small, agile organization that has already done a lot of internal work with equity takes next steps with an outside party.
What has been the most challenging aspect of your internship experience?
Since I work virtually from the Greater Chicagoland area, it has been a challenge to focus while working from home. Even if the work I have to do is interesting, it can still be difficult to get motivated some days! I also felt like I missed out on some in-person professional development/civic immersion sessions with the other interns in Cleveland. I would have loved to meet my cohort in-person and visit some of their host organizations.
That being said, I have been reaching out to some of my peers to connect virtually and look forward to meeting my staff in-person in Cleveland during the fall.
When you're not working, what do you enjoy doing around Cleveland?
I love walking around and exploring the Cleveland area! My favorite places to walk around are the Lakeview Cemetery and the Cleveland Museum of Art. I also love eating, so boba at Dagu Rice Noodle is always a treat.
What are your career goals after college?
Interning with SVP Cleveland has really opened my eyes to the world of philanthropy, so I would love to work in the philanthropic sector. I'm also interested in influencer marketing, market research, and the intersection of faith and sexuality. I am open to graduate school after a couple years of working.
How has this internship helped you grow personally and professionally? 
This internship has really helped me take charge of my own professional development in a way that intersected with my personal development. I learned that I was more than capable of finding my own personal and professional development resources in regards to learning about equity. For example, the articles surrounding equity and philanthropy that SVP gave me for the first few days of the internship also contained terms that I didn't understand. I was able to read more in depth about the topics that interested me and contributed to my own development. After attending a Racial Equity Institute training hosted by Third Space Action Lab, I signed up for the Dismantling Racism: Unity Challenge that sent me resources around a topics like implicit bias and privilege every day for a few weeks. I liked how I have been able to sign up and research these areas on my own, instead of just being assigned them like in school. The internship taught me that I can build on professional and personal development resources through my own exploration.
What's your favorite public space in Cleveland? 
I really like the Cleveland Museum of Art! The atrium is breathtaking, and I love a good museum gift shop. They had a Yayoi Kusama exhibit a few years back which was really cool.
Where would you take a friend who is visiting Cleveland for the first time?
Ideally, it would be fall and nice weather for walking. If the leaves at Lakeview Cemetery are turning, we would take a morning walk there and then head to the Cleveland Museum of Art to admire my favorite painting, Gray and Gold by John Rogers Cox, because it's better in person. By this time, we would have worked up an appetite, so I would head to Kintaro All You Can Eat Sushi & Hot Pot or Lucky's Café in Tremont. Then, we would visit one of the Cleveland signs if they're nearby because I think that they are so fun. If we aren't too full, I would go to Dagu Rice Noodle for boba and then either Rosso Gelato or Mitchell's for more dessert.
What advice would you give to someone considering applying for the Cleveland Foundation Summer Internship program?
Don't let fear stop you from applying if this internship interests you. Be bold when being yourself on your application!