Our #SummerOfPurpose blog series follows this year's Cleveland Foundation Summer Interns as they reflect on 11 weeks spent working with Cleveland-area nonprofit and public sector organizations. In today's blog we hear from Anna Cormier, who spent her summer with the Fairmount Center for the Arts, where she helped to plan the 45th Annual Juried Art Exhibition, a core centerpiece event of the organization's 50th anniversary celebrations.
Name: Anna Cormier
College: Case Western Reserve University
Hometown: South Hadley, MA
Internship Host Site: Fairmount Center for the Arts
Why did you initially decide to participate in this internship program?  
I had been looking for internships that would give me an opportunity to work in an arts organization administratively. I loved the Cleveland Foundation's mission and focus of supporting Cleveland nonprofits, and the people at Fairmount seemed to share similar values about how to create art in the community!
What has been the most valuable aspect of your internship experience?  
In my time at Fairmount, I have greatly appreciated getting to help with camps and teach, and I have appreciated learning different teaching styles. Additionally, working on the arts exhibition has allowed me to learn more about art in Cleveland. I have been challenged in the best ways, and I am grateful for all that I have been able to accomplish here!
What has been the most challenging aspect of your internship experience?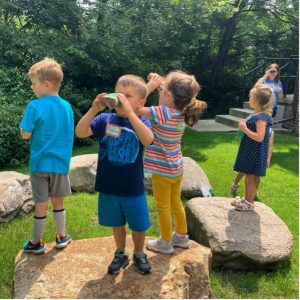 One of the most challenging and exciting parts of this internship has been representing Fairmount as a teacher and as I have reached out to other organizations. This was my first time representing an organization professionally, and presenting Fairmount at its best was something I wanted to make sure I was doing well. At the same time, I have fully enjoyed the challenge and have loved sharing the arts with the community!
When you're not working, what do you enjoy doing around Cleveland?  
I love exploring new places around Cleveland and around Fairmount! Chagrin Falls is beautiful, and I have discovered new shops and hangout areas in Little Italy and downtown Cleveland that I didn't know existed!
Working at Fairmount has allowed me to work a full-time job in a high energy and collaborative workspace. I have learned how to manage my time efficiently while allowing myself to be flexible for additional projects that may come up. I have also met so many incredible artists and staff through Fairmount and the Cleveland Foundation who I hope to stay in touch with!
How has this internship helped you grow personally? 
Working with a nonprofit arts center has made me so appreciative of the dedication people have to making the arts happen for the surrounding community. Being able to work with kids and teachers has made me a more understanding person.  
What's your favorite public space in Cleveland?   
The front of the Cleveland Museum of Art; the fountain and museum front are beautiful!
What advice would you give to someone considering applying for the Cleveland Foundation Summer Internship program?  
Apply! Be honest in your application and interviews about what you hope to get out of it. Everyone at the foundation and the organizations they sponsor are looking for enthusiastic people who are dedicated to the mission of the organization!