Our #SummerOfPurpose blog series follows this year's Cleveland Foundation Summer Interns as they reflect on 11 weeks spent working with Cleveland-area nonprofit and public sector organizations. In today's blog, we hear from Jaya Patten, who spent her summer at Equality Ohio, where assisted with education and advocacy initiatives, organized data around Cleveland Pride events, and planned volunteer and outreach programs supporting LGBTQ+ rights and issues.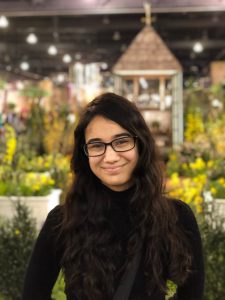 Name: Jaya Patten
College: Case Western Reserve University
Internship Host Site: Equality Ohio
Why did you initially decide to participate in this internship program? 
I first chose to participate in this program because it allowed me to give back to my community and the place that has become my home during my college career. I had worked with other nonprofits in the past, and I knew I wanted to grow this passion but was seeking a role that would get me involved in my own city. This internship program gave me my first opportunity to work in Cleveland to directly engage with and make a difference in my own community.
What has been the most valuable aspect of your internship experience? 
I think the best part of my internship so far has been being able to work at Pride events throughout the state. At these celebrations I get to talk to LGBTQ+ Ohioans from all walks of life, and direct them to things like our free legal services, volunteer opportunities, and ways to be more politically active. I also got to hear so many people's stories of their own queer experience on anything from marginalization to empowerment. It was incredibly moving to hear the perseverance of a community that is subjected to so much and find out how different parts of someone's identity can impact the queer experience. It really showed me the significance of having LGBTQ+ spaces and support systems everywhere.
What has been the most challenging aspect of your internship?
I would say I've had a bit of a love hate relationship with being primarily work from home. While it has saved me time on a commute, it has definitely made forming relationships very different. However, I think it challenged me to be disciplined in my time management, to work more independently, and to be more proactive in my professional relationships.
When you're not working, what do you enjoy doing around Cleveland? 
I love going to local concerts, thrifting with my friends, and trying out new boba and coffee places all over Cleveland. This summer I also just started to learn how to boulder at Climb Cleveland!
What are your career goals after college? 
I definitely want to take a gap year doing service work and then get my master's degree. In the long term, I want to work in the nonprofit sector to make a difference in marginalized communities through advocacy and community outreach. I have found that I especially have a passion for LGBTQ+ rights, women's rights and disability rights.
How has this internship helped you grow professionally? 
Equality Ohio has a really unique culture that really values work/life balance and mental health. Working here did wonders to undo the pressure I put on myself to be perfect in every aspect of my life and dedicate every moment to productivity. This internship showed me that I can only produce my best work when I take time to rest, recharge, and take care of myself and that that is never something to feel guilty about or ignore.
What's your favorite public space in Cleveland? 
As a student at Case Western Reserve University, I love Wade Lagoon. It's a beautiful place to read, have a picnic, run, or simply pass by on the walk to class.
What advice would you give to someone considering applying for the Cleveland Foundation Summer Internship Program? 
I would recommend simply believing in yourself and your accomplishments. Remind yourself of everything you have done and what makes you special as an employee. Pretty much everyone has dealt with imposter syndrome, and just because you feel like you don't know what you are doing doesn't mean it's true. Everyone feels that way, and there is never any harm in trying for an opportunity. You have nothing to lose and everything to gain!