The Steven A. Minter Conference Center
Our secured conference facility is available for complimentary use by nonprofit organizations, professional associations, and affiliate organizations. The facility consists of one large room (60′ x 32′), which can be divided into three smaller rooms. It can accommodate a maximum of 80 people.
Amenities
Installed audio/visual system
Laptop with internet access 
LCD projectors and built-in projection screens
Speakerphone
Wireless microphones
Complimentary beverage service
Full-service kitchen
Lounge area for breakout sessions or refreshments
Onsite color copier
Wi-Fi
Hours of Operation
The center is available for meetings Monday through Friday between 9 a.m. and 4 p.m. 
To reserve the Minter Conference Center or schedule an appointment to view the space, contact the foundation's conference manager, Ellen Koonce, at 216.370.4615. Those interested in reserving the center are highly encouraged to schedule a tour of the center before booking.
Room Configurations
Choose from two different arrangements for the conference center:
Boardroom Style:
One long table seats up to 20 people. 
Banquet Style:
Each small table seats 8 people.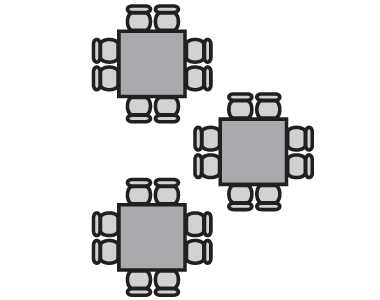 Capacity
The conference center can accommodate a maximum of 80 people.