Filter By Department
Community Responsive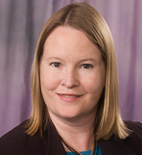 Kathleen Hallissey
Grantmaking
Program Director, Leadership Development
Administrative Assistant: Ciba Jones 216.615.7184

Kathleen Hallissey is currently the Program Director for Leadership Development at the Cleveland Foundation where she has responsibility for its leadership programs including the Foundation's summer internship program, the Public Service Fellowship program and the Encore Cleveland Initiative which focuses on tapping into the time, energy and talents of experienced Clevelanders to solve community challenges and fill unmet needs. She also oversees grantmaking and provides leadership in the aging and early learning sectors.

She joined The Cleveland Foundation in August 2005 as a program officer, focusing on education and health, human services grants, and strengthening nonprofit organizations across Greater Cleveland. She was promoted to Director of Community Responsive Grantmaking where she worked with a team of program officers to align grantmaking with the needs of the community and the foundation's priorities.

Previously, Kathy served as a management consultant to the Head Start community working on special projects such as the grantee monitoring system, data analysis and the development of training and technical assistance materials. She served as a program analyst in the Department of Health and Human Services in Washington, DC, focusing on programs and policies impacting children, youth and families specifically Head Start and Early Head Start. She began her career in the federal government as a Presidential Management Fellow. This two-year program was designed to build excellence in the public sector. During her fellowship she completed key projects in legislative affairs, planning and evaluation, and program implementation.

Kathy earned a Master of Public Administration from the University of Massachusetts at Amherst and a Bachelor of Arts cum laude from Drew University in New Jersey. She is a 2013 Leadership Cleveland graduate and a graduate of the YWCA Women's Momentum program.
Kimalon Dixon
Grantmaking
Senior Project Director, Cleveland Purpose Built Communities
Administrative Assistant: Sarah King 216.615.7155

Kimalon Dixon brings extensive experience in public and community service to the Cleveland Foundation. Kimalon served as Program Officer of Health at the Cleveland Foundation from October 2013 until May 2018. She is now Senior Project Director, Cleveland Purpose Built Communities – a joint initiative of the Saint Luke's Foundation and the Cleveland Foundation. Cleveland Purpose Built Communities is a holistic neighborhood revitalization initiative with a goal of transforming areas within the Buckeye/Woodhill and Glenville neighborhoods. The initiative is modeled after the successful Purpose Built Communities' model that originated in a community outside of Atlanta, GA approximately 20 years ago.  The model is built upon multi-sector collaboration of three strategic focus areas - education; mixed income housing; and community health & wellness.
Prior to joining the Cleveland Foundation, Kimalon was Project Director at the Cleveland Department of Public Health (CDPH) where she managed a multi-sector collaborative that focused on the elimination of childhood lead poisoning and pursuit of healthy homes in Greater Cleveland. Kimalon earned her Bachelor of Science in Microbiology from The Ohio State University and a Master of Business Administration with a concentration in Management & Labor Relations from Cleveland State University. She has been recognized by the City of Cleveland and State of Ohio with awards for her impactful work at CDPH and was honored by Who's Who in Black Cleveland in 2012. Kimalon is a graduate of the Cleveland Management Academy. She was selected by Grantmakers In Health's Terrance Keenan Institute for Emerging Leaders in Health Philanthropy Fellow in 2016. Kimalon was recently selected as a Robert Wood Johnson Foundation Culture of Health Leader, Cohort 3.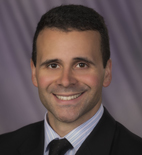 Stephen Love
Grantmaking
Program Manager, Environmental Initiatives
Administrative Assistant: Sarah King 216.615.7155

Stephen Love joined the Foundation in 2014 as part of the community responsive grantmaking team. In this capacity, Stephen also managed the Foundation's Summer Internship Program and oversaw implementation of the Cleveland Foundation Public Service Fellowship. In 2018, Stephen became the Foundation's Environment Program Officer, overseeing development of an Environmental Grantmaking strategy, including efforts to protect the air we breathe, the water we drink, and the parks and greenspaces we enjoy by supporting policies and practices that link environmental protection, climate action, health, equity and economic prosperity.
Prior to joining the foundation in 2014, Stephen worked for the Cuyahoga Land Bank, researching and compiling property data for vacant property reuse opportunities as part of the President's Special Projects team. Additionally, he served as an AmeriCorps VISTA with Cleveland Neighborhood Progress, focusing on neighborhood stabilization and urban agriculture projects. Stephen founded a volunteer beach cleanup and advocacy effort directed at improving Euclid Beach Park. Previously, he served on the board of directors of the Cleveland Lakefront Conservancy and the Northeast Shores Development Corporation.