November Centennial Gift: Cleveland Foundation Day of Theater
Foundation to provide free tickets to five holiday performances on Sunday, Nov. 30 by Cleveland Play House, Cleveland Public Theatre and Great Lakes Theater at PlayhouseSquare
Online lottery system created to accommodate overwhelming interest in monthly
centennial gifts
RELEASE DATE: 11.03.2014
CLEVELAND – The Cleveland Foundation today announced its November centennial gift to the community – Cleveland Foundation Day of Theater – which will help usher in the holiday season by sharing the gift of some of our community's theatrical treasures with Northeast Ohio. The gift includes 2,300 free tickets to five separate holiday performances by Cleveland Play House, Cleveland Public Theatre and Great Lakes Theater at PlayhouseSquare on Sunday, Nov. 30. Greater Clevelanders can enter an online ticket lottery system for the chance to be randomly selected to receive up to four tickets to a single performance.
The Cleveland Foundation Day of Theater will include the following productions at PlayhouseSquare:
"A Christmas Story" by Cleveland Play House at the Allen Theatre at 2:30 p.m. & 7 p.m. (family-friendly show)

"A Christmas Carol" by Great Lakes Theater at the Ohio Theatre at 3 p.m. (family-friendly show)

"The Santaland Diaries" by Cleveland Public Theatre at Outcalt Theatre at 4 p.m. & 7:30 p.m. (adults-only show)
The online ticket lottery is now closed. Thank you to everyone who entered.
If you entered, you will receive an email letting you know whether or not you have won tickets by 5 p.m. on Friday, Nov. 14.
Good luck!
This lottery is not first-come, first-served; residents will be randomly selected to attend the performances. All registered participants will receive email notification by 5 p.m. Friday, Nov. 14, whether or not they have secured tickets. No phone call entries are permitted.
"We look forward to thousands of Greater Cleveland residents beginning their holiday season by enjoying the incredibly talented theater companies our community is fortunate to have," said Robert E. Eckardt, Executive Vice President of the Cleveland Foundation. "We are overwhelmed by the incredible interest in our monthly gifts to the community. We recognize that being first to reserve tickets can be difficult, so we decided a lottery system was the fairest way to extend this opportunity to those who want to participate in this month's gift."
People can select only one performance and register once for up to four tickets for a single performance on Nov. 30. One entry per household and email address is permitted. Because this "Day of Theater" is on the busy Sunday following Thanksgiving, the foundation asks all people who enter the lottery to first confirm they will be able to use the tickets if selected.
The Cleveland Foundation has played a role in saving or sustaining the three theater organizations that are its gift partners this month, providing a total of $22 million to Cleveland Public Theatre, Cleveland Play House and Great Lakes Theater in the last four decades alone. All three organizations also participated over the past three years in the Cleveland Foundation's "Engaging the Future" initiative, which focused on helping local arts organizations build their audiences of tomorrow.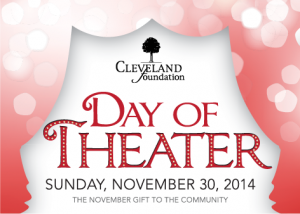 The Cleveland Foundation's history of support of Cleveland Play House has included funding for its relocation to the Allen Theatre in PlayhouseSquare.
"We are honored and delighted to be part of this centennial gift from the Cleveland Foundation," said Cleveland Play House Artistic Director Laura Kepley. "As we celebrate our 99th season and its theme of Legacy, I am reminded that there is no organization that better exemplifies a legacy of community service and enrichment than the Cleveland Foundation. We thank the Cleveland Foundation for this generous gift for the holidays, which will introduce thousands to the magic of live theater that we and the other gift partners create for the stage all year round."
The Cleveland Foundation has been a supporter of Cleveland Public Theatre since shortly after its founding in 1981. The foundation's support has included funding for various capacity-building and programming efforts.
"The Cleveland Foundation's dedication to the arts and cutting-edge programs has transformed our city and pushed us to the forefront of national trends," said Raymond Bobgan, Executive Artistic Director of Cleveland Public Theatre. "For Cleveland Public Theatre, the foundation's funding has supported an organizational transformation sparking neighborhood revitalization, an explosion of locally-grown theatre creations, life-changing educational programs for low-income youth and adults, and an approach to arts that engages the rich diversity of our community. We are grateful to be part of this special day as we share a little piece of the Gordon Square Arts District in the heart of PlayhouseSquare."
The Cleveland Foundation's history with Great Lakes Theater has included support for its alliance with PlayhouseSquare and renovation of its current home, the Hanna Theatre.
"We're thrilled to play a role and shine our spotlight on the Cleveland Foundation as part of its November centennial gift to the community," said Bob Taylor, Great Lakes Theater's Executive Director. "The Cleveland Foundation's visionary investment in Great Lakes Theater and countless other arts and cultural organizations over the past century is a testament to its commitment to improving the quality of life for residents of all ages and backgrounds throughout our region. We're truly grateful for the foundation's vital support throughout our company's history and we're honored to be selected as a centennial partner during this landmark anniversary for our community."
The Cleveland Foundation is inviting all those who are awarded tickets for the performances to bring a non-perishable food donation to be distributed through the Greater Cleveland Food Bank. Special collection bins will be at each theater on Nov. 30. During the foundation's October centennial gift – Cleveland Foundation Weekend in Lake County – more than 2,500 pounds of food and $300 were collected at The Holden Arboretum and Lake Metroparks Farmpark, which will provide 2,200 meals through United Way Lake County.
With today's November gift announcement, the Cleveland Foundation has partnered with 23 local nonprofit organizations and public agencies for its monthly centennial gifts to the community. More than 130,000 Greater Clevelanders have enjoyed the monthly gifts to date.
____________________________________________________________________ 
The Cleveland Foundation
Established in 1914, the Cleveland Foundation is the world's first community foundation and one of the largest today, with assets of $2.1 billion and 2013 grants of $89 million. For more information on the Cleveland Foundation, visit ClevelandFoundation.org/purpose  and follow us at facebook.com/ClevelandFoundation or @CleveFoundation on Twitter.