Kate A. Asbeck Named CFO of the Cleveland Foundation
Release Date: 04.19.2010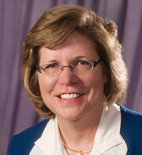 Cleveland Foundation President and CEO Ronald B. Richard today announced that Kate A. Asbeck has joined the foundation as senior vice president and chief financial officer.
Asbeck, a Cleveland native, comes to the foundation having spent more than 30 years in the accounting and financial fields. Most recently, she was senior vice president-finance at Corning Incorporated, a world leader in specialty glass, ceramics, and fiber optics, where she led the company's 600-person global finance team and served as its principal accounting officer. She also has held accounting positions at PricewaterhouseCoopers and Champion International Corporation.
"Given her expertise in all aspects of finance and accounting, her dedication to community service, and her affection for Northeast Ohio, Kate is well qualified to lead the foundation's finance team," said Richard. "I am confident she will maintain the incredibly high bar for excellence that has been set for the Cleveland Foundation's investment performance and its internal finance function."
Asbeck earned a bachelor's degree in accounting and economics from Ohio Wesleyan University and is a certified public accountant. She has filled a variety of leadership roles in the financial profession, serving as a member of the Committee on Corporate Reporting of Financial Executives International and its Executive and Public Company Accounting Oversight Board committees. She also has devoted considerable time to community service by serving on the boards of the Corning Incorporated Foundation and several social service organizations in Corning, New York.
"I am very excited to be joining the Cleveland Foundation team," Asbeck said. "I look forward to furthering the mission of the organization while preserving its financial integrity and strong reputation. It is an honor to be a part of such a storied institution."
###
Established in 1914, the Cleveland Foundation is the world's first community foundation and the nation's third-largest today, with assets of $1.8 billion and 2009 grants of $82 million. The foundation improves the lives of Greater Clevelanders by building community endowment, addressing needs through grantmaking, and providing leadership on vital issues. Currently the foundation proactively directs two-thirds of its flexible grant dollars to the community's greatest needs: economic transformation (including advanced energy and globalization), public school improvement, human services and youth development, neighborhoods and housing, and arts advancement.
 
For more information on the Cleveland Foundation, please visit ClevelandFoundation.org.