Malvin E. Bank Receives Homer C. Wadsworth Award
Award recognizes those who reflect former Cleveland Foundation leader's qualities
Release Date: 06.24.2009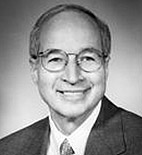 The Cleveland Foundation announced that Malvin E. Bank of the law firm Thompson Hine is the 2009 recipient of the Homer C. Wadsworth Award. The award is given annually to a local leader who has demonstrated creativity, innovation, ingenuity, risk-taking, and good humor in a civic, volunteer, nonprofit, or public-sector role. Bank received the award at the Cleveland Foundation's annual meeting at Severance Hall.
Bank served as general counsel for the Cleveland Foundation from 1967 to 2003. He also has been a trustee for more than 30 charitable and educational institutions, and a director for more than 50 for-profit businesses. His work behind the scenes has been vital to a wide variety of important community projects, including the development of Lexington Village in Cleveland's Hough neighborhood and the establishment of Playhouse Square and the WCLV Foundation.
"For decades, Mal Bank has been a constant, quiet counselor to so many individuals, foundations, and nonprofit organizations in Cleveland," said Ronn Richard, president and CEO of the Cleveland Foundation. "He has helped them fulfill their dreams and aspirations by working to develop their missions and organizational structures, and navigate IRS regulations. His is an exemplary life of public service. It's difficult to imagine someone more deserving of the Homer C. Wadsworth Award."
Bank has been selected by his peers for inclusion in The Best Lawyers of America for 25 consecutive years, since the publication's inception. His legal practice centers on federal income and estate tax matters, as well as foundations and tax-exempt organizations. He served as a representative for the Council on Foundations in negotiations with the U.S. Treasury Department and Congress over rules and regulations related to charities.
Bank earned a bachelor's degree with highest honors from Pennsylvania State University and a juris doctorate from Yale Law School. In 1999, he was given the Outstanding Liberal Arts Alumnus Award by Penn State, where he and his wife Lea would later fund the university's newly created Jewish Studies Program. At Yale, he served as an editor for the Yale Law Review.
Bank was as an officer in the U.S. Army during the Korean War, where he earned the Bronze Star and a Presidential Unit Citation. He also served as a councilman for the Village of Hunting Valley for 10 years.
Homer C. Wadsworth was executive director of the Cleveland Foundation from 1974 to 1983. He was regarded as a man of creativity, courage, commitment, and innovation. Prior to his death in 1994, Wadsworth's friends and family established the Homer C. Wadsworth Award to identify and honor those in the community who best reflected those qualities.
###
Established in 1914, the Cleveland Foundation is the world's first community foundation and the nation's third-largest today, with assets of $1.6 billion and 2008 grants of $84 million. The foundation improves the lives of Greater Clevelanders by building community endowment, addressing needs through grantmaking, and providing leadership on vital issues. Currently the foundation proactively directs two-thirds of its flexible grant dollars to the community's greatest needs: economic transformation (including advanced energy and globalization), public school improvement, early childhood and youth development, neighborhoods and housing, and arts advancement.
For more information on the Cleveland Foundation, please visit ClevelandFoundation.org.