Nov. 29, 2017 – Thanks to the generosity of the Greater Cleveland community, we raised more than $184,000 for Puerto Rico relief efforts! At this time, all funds are being transferred to the Puerto Rico Community Foundation for use in the hardest hit areas of the island. Donations are still being accepted directly via: https://www.fcpr.org/
Cleveland For Puerto Rico Relief to Host Phone Bank to Support Hurricane Recovery
All donations to be delivered to Puerto Rico Community Foundation for use in hardest hit areas; KeyBank Foundation contributes $25,000 for recovery efforts, bringing total raised from community to more than $100,000
CLEVELAND (Oct. 9, 2017) – On Tuesday, Oct. 10, the Hispanic Business Center of the Northeast Ohio Hispanic Chamber of Commerce, the Julia de Burgos Cultural Arts Center and the Hispanic Alliance will host a phone bank with WEWS News 5 to raise funds for Puerto Rico recovery efforts.
On the afternoon of the phone bank, from 4- 6:30 p.m., Greater Cleveland viewers can call 1-800-658-5370 to donate to Cleveland For Puerto Rico Relief Efforts. All donations will be collected and transferred directly to the Puerto Rico Community Foundation (Fundación Comunitaria de Puerto Rico) and specifically designated for hurricane relief efforts in the hardest hit areas throughout the island. Viewers can also visit www.clevelandfoundation.org/puertorico to give online between now and Nov. 30.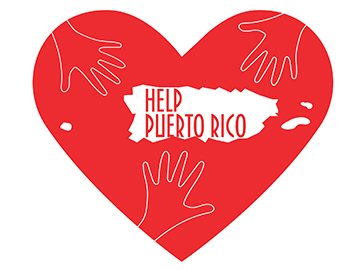 "We want to help the Latino community in Cleveland support Puerto Rico, which has been devastated by the impact of Hurricane Maria," said Jenice Contreras, executive director of the Hispanic Business Center. "We are proud to partner with WEWS Channel 5 to collect contributions for Puerto Rico relief efforts and we thank all of Greater Cleveland for their tremendous support."
Additionally, KeyBank Foundation today announced a $25,000 grant to increase the community's support for Puerto Rico. With this commitment, KeyBank Foundation joins the Cleveland Foundation and the Jewish Federation of Cleveland in contributing $100,000 to Cleveland For Puerto Rico Relief Efforts.
"Our hearts go out to the many affected by Hurricane Maria and the damage it left behind," said Margot Copeland, Chair and CEO of KeyBank Foundation. "We stand with the Cleveland Latino community and ask all Clevelanders to join us in providing much-needed support for relief efforts in Puerto Rico."
The local Latino community throughout Northeast Ohio has created a collective known as Cleveland for Puerto Rico Relief Efforts in order to respond to the short- and long-term needs of the island. This collective includes faith-based, nonprofit, corporate, public and private entities joining for these humanitarian efforts. For more information on Cleveland for Puerto Rico Relief Efforts, including upcoming events, resources and the latest news, please visit www.CLE4PR.org.
Media Contact
Alan Ashby, Cleveland Foundation media relations officer, aashby@clevefdn.org, 216-615-7591
About the Cleveland Foundation:
Established in 1914, the Cleveland Foundation is the world's first community foundation and one of the largest today, with assets of $2.13 billion and 2016 grants of $93.6 million. Through the generosity of donors, the foundation improves the lives of residents of Cuyahoga, Lake and Geauga counties by building community endowment, addressing needs through grantmaking and providing leadership on vital issues. The foundation tackles the community's priority areas – education and youth development, neighborhoods, health and human services, arts and culture, and economic development – and responds to the community's needs.
For more information on the Cleveland Foundation, visit www.ClevelandFoundation.org and follow us on Facebook (/ClevelandFoundation), Twitter (@CleveFoundation) and Instagram (@CleveFoundation).
About the Jewish Federation of Cleveland:
The Jewish Federation of Cleveland is a 110+ year old community cornerstone that aspires to leave no community member behind. Rooted in traditional Jewish values of justice (tzedek), repairing the world (tikkun olam), acts of loving kindness (gemilut hesed), and Jewish peoplehood (klal yisrael), we commit our values into action every day. By honoring and respecting those who have come before us, and paving the way for those who will come after, we exist to build a better world and care for those who share it. We are the only Jewish organization that considers the needs of our community as a whole and plans for its future.
KeyBank
KeyCorp's roots trace back 190 years to Albany, New York. Headquartered in Cleveland, Ohio, Key is one of the nation's largest bank-based financial services companies, with assets of approximately $135.8 billion at June 30, 2017. Key provides deposit, lending, cash management, insurance, and investment services to individuals and businesses in 15 states under the name KeyBank National Association through a network of more than 1,200 branches and more than 1,500 ATMs. Key also provides a broad range of sophisticated corporate and investment banking products, such as merger and acquisition advice, public and private debt and equity, syndications, and derivatives to middle market companies in selected industries throughout the United States under the KeyBanc Capital Markets trade name. For more information, visit https://www.key.com/. KeyBank is Member FDIC.