Vickie Eaton Johnson Honored With Homer C. Wadsworth Award
Release Date: 06.19.2012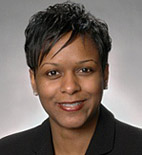 CLEVELAND – The Cleveland Foundation honored Vickie Eaton Johnson, Executive Director of the Fairfax Renaissance Development Corp. (FRDC), with its 2012 Homer C. Wadsworth Award. The award is given annually to a local leader who has demonstrated creativity, innovation, ingenuity, risk-taking, and good humor in a civic, volunteer, nonprofit, or public sector role. Johnson received the award at the Cleveland Foundation's annual meeting at Severance Hall on June 19, 2012.
Johnson has been a visionary leader in Cleveland's neighborhoods for the past two decades, helping to shepherd business and residential development to transform neighborhoods.
Since 1997, Johnson has served as executive director of FRDC. In that time, the organization has grown from $26,000 in net assets to $9.5 million. She has directed more than $120 million in new investments in the Fairfax neighborhood, with $17 million planned in 2012.
Johnson's previous roles include manager for the City of Cleveland's Housing Construction Office, housing director for Hough Area Partners in Progress, and legislative assistant to the Democratic Caucus in the Ohio State Senate.
Active in the community, Johnson serves as board vice chair for Cuyahoga Arts & Culture and is on the steering committee of the Opportunity Corridor Project. She also volunteers with Citizens Academy and Cleveland Action to Support Housing.
Johnson attended Cleveland public schools and is a graduate of Collinwood High School. She earned a bachelor's degree from Baldwin-Wallace College and a master's degree in public administration from the Levin College of Urban Affairs at Cleveland State University.
"Vickie Eaton Johnson has been a tireless trailblazer in helping to turn around neighborhoods by not only leading economic development, but also by leading efforts to get residents engaged in their community," said Ronn Richard, president and CEO of the Cleveland Foundation. "She exemplifies the vision, energy, and creativity of Homer Wadsworth, whose legacy this award celebrates."
Homer C. Wadsworth was executive director of the Cleveland Foundation from 1974 to 1983. He was known as a man of creativity, courage, commitment, and innovation. Prior to his death in 1994, Wadsworth's friends and family established the Homer C. Wadsworth Award to identify and honor those in the community who best reflected those qualities.
###
Established in 1914, the Cleveland Foundation is the world's first community foundation and one of the largest today, with assets of $1.8 billion and 2011 grants of $80 million. Through the generosity of our donors, the foundation improves the lives of Greater Clevelanders by building community endowment, addressing needs through grantmaking, and providing leadership on vital issues. The foundation tackles the community's vital issues – economic transformation, public-school improvement, youth development, neighborhood revitalization, and arts advancement – and responds to the community's needs.
For more information on the Cleveland Foundation, please visit ClevelandFoundation.org.