Earlier this spring, I was asked by our friendly nonprofit association, Ohio Grantmakers Forum, to review a book on nonprofit management for the spring issue of their newsletter. 
I used the opportunity to track down the latest publication from the folks at Chardon Press, a series dedicated to "organizing for social change." I selected Frances Kunreuther's Working Across Generations: Defining the Future of Nonprofit Leadership.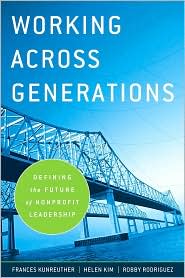 Since my original review, the economy has continued to do a real number on all our assets, operating budgets, and occasionally our confidence—underscoring the importance of this book's push for real intergenerational leadership at our foundations and nonprofits.  See my review below and answer the following questions.
• How have generational differences shaped your work at foundations and nonprofits?
• What's working?  What's not?  Post your insights; push for a better understanding and way of achieving our nonprofit missions.
Working Across Generations: Defining the Future of Nonprofit Leadership
Originally published in OGF Connection (Spring 2009)

Many books, articles and even a few studies written on the subject of generational leadership recklessly tumble into the predictable pattern, claiming that we're headed into a mass boomer exodus—leaving nonprofits and foundations stranded with a next generation at the helm that is neither prepared, nor willing to lead. 
Fortunately, Working Across Generations: Defining the Future of Nonprofit Leadership (Kunreuther, Kim & Rodriguez, 2009), disputes this overstated fear and challenges us all—no matter what stage of our careers—to understand how we can work better together and learn from one another to keep our sector thriving.
Kunreuther and her team use strong research, first-person accounts and case studies to paint a respectful, but realistic portrait of how each generation approaches its nonprofit work. Careful not to make broad generalizations, Working Across Generations is a culturally competent read that redefines the "leadership problem." While the exercises sprinkled throughout each chapter are a tad contrived, they ensure that the book is practical and easy to operationalize.
Working Across Generations reflects a body of research produced by the Building Movement Project, an excellent resource for further reading on the subject of multi-generational leadership in nonprofits. As our foundations and the grantees with which we work face ever more challenging times, consider this book a resource worth sharing with every nonprofit leader you know.
From the book:
Both older and younger generations want to have an impact. At your own Foundation and with grantees, consider the following:
 
Understand that building trust is a process, not a problem. 
Develop and fund participatory leadership structures. 
Be part of an organization that combines boomer experience with Gen X and Millennial savvy.
What else should I add to my spring reading list?  Share your good book lists.