The Cleveland Foundation works to ensure Cleveland's young people are successful inside and outside of school, while also responding to pressing community needs that affect young people and their families. 
Early Childhood Education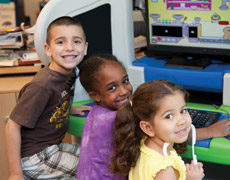 The Cleveland Foundation has invested in several large initiatives to get young children ready for school, including: 
Invest in Children is a community-wide partnership created in 1999 to ensure the well-being of all young children in Cuyahoga County. 
Pre4Cle is a public-private partnership between the Cleveland Metropolitan School District (CMSD), Cuyahoga County, and private funders to increase the numbers of high quality preschool slots in the City of Cleveland. This is a major component in the Cleveland Plan. So far Pre4Cle has added an additional 2,000 high quality slots for children in Cleveland.
MyCom Youth Development
MyCom helps young people connect with the opportunities and networks needed to lead happy, productive lives. MyCom focuses on neighborhood-based out-of-school time, youth employment, leadership and engagement, college and career readiness, community service and mentoring.
More than 10,000 youth across 20 neighborhoods have been served by MyCom's lead agencies:
Youth Opportunities Unlimited (Y.O.U.): Provides youth employment
Starting Point: Supports out-of-school time programs
Neighborhood Leadership Institute: Builds neighborhood and youth leadership
Case Western Reserve University: Evaluates program data
Youth Violence Prevention and Intervention
We support on-site crime prevention and conflict mediation for youth and young adults who are risk of, victims of, or perpetrators of violence, and partnerships to serve high-risk and violent youth.
Peacemakers Alliance: Under the leadership of the Boys and Girls Clubs of Cleveland, sends outreach workers and violence interrupters into communities to help negotiate conflict and diffuse violence.
STANCE (Stand Together Against Neighborhood Crime Everyday): Builds and strengthens alliances between police, nonprofits and residents to reach high-risk and violent youth. The Cleveland Foundation has funded the Partnership for a Safer Cleveland, which manages this program. 
Support a Faith-Based Community Network
Houses of worship are among the most reliable strands in the social safety net. By helping these institutions collaborate and coordinate as a network, the foundation equips faith-based leaders to reach at-risk youth and families.