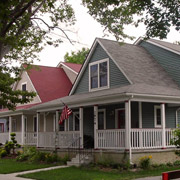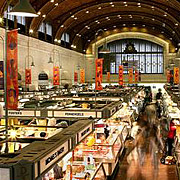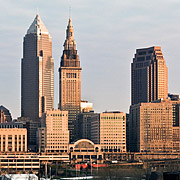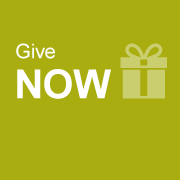 Give to Neighborhood Revitalization
We believe all Greater Cleveland residents deserve vibrant, healthy neighborhoods. Together with donors and community partners, we focus on the intersections of:
People: connecting residents in meaningful ways;
Place: enhancements to the built and natural environment; and
Power: organizing, advocacy, policy and systems change to help Greater Clevelanders imagine, build and sustain neighborhoods they care about and feel connected to.
From large-scale initiatives to individual organizations, we highlight some of the key partners and projects in our approach to neighborhood development:
People
Improving the lived experience and social fabric by connecting people to each other in meaningful ways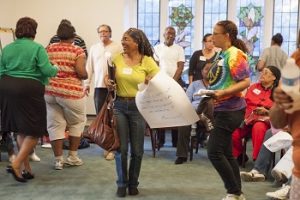 Neighborhood Connections supports resident-led projects and community network building in Cleveland and East Cleveland. Established in 2003 by the Cleveland Foundation, Neighborhood Connections is one of the largest community building programs in the country and is recognized as a national model in its practices.
Grantmaking: A committee of neighborhood residents review local projects for small grants between $500 – $5,000. More than $8.3 million has been granted in support of 2,600 grassroots projects.
Neighbor Up: A network of more than 3,000 active members using their talents and skills to improve life in Cleveland's neighborhoods.
ioby Cleveland is an innovative crowdfunding platform where people across the city set out to get good done in their neighborhoods. To date, residents in Cleveland have raised over $951,300 for 292 projects with help from ioby. 
Place
Enhancing the built and natural environment to promote health, happiness and ownership
Community Development Intermediaries and Organizations
Cleveland Neighborhood Progress (CNP) is a nationally recognized community development intermediary that works with people and organizations across public and private sectors.
Since CNP's founding in 1988, nearly $1 billion in capital investments have been leveraged across various Cleveland neighborhoods.
CNP's grants to community development corporations support housing, development, jobs, safety and other essential neighborhood projects and needs.
Downtown Cleveland Alliance (DCA) encourages people to live, work and play in Downtown Cleveland to create a vibrant and welcoming downtown neighborhood. Thanks to the work of DCA and its partners, more people are choosing to live and invest in Downtown Cleveland.
Construction has continued or been completed on more than $440 million in housing development with more than 1,900 apartments added over a two-year period.
In response to the challenges of the COVID-19 pandemic, The Mask Up! Doors Open! campaign boldly invites minority entrepreneurs to open a business downtown and help it grow. Learn more here.
The Downtown Recovery Response Fund has provided $1.45 million to help 70 downtown businesses reopen after they were damaged when peaceful protests turned violent in May 2020.
MidTown Cleveland Inc. fosters a dynamic, seamless neighborhood that champions innovation and technology and reignites the link between Downtown and University Circle.
MidTown has supported ongoing virtual and in-person celebrations of the neighborhood's history and social fabric. Leo's Listening Party, a community concert series, is a tribute to the historic multicultural entertainment venue Leo's Casino, which was a neighborhood destination and a testing-ground for leading African American entertainers like Otis Redding and Dizzy Gillespie in the late 1960s and early 1970s.
The reimagining of E. 66th Street, designed by neighborhood residents and youth, aims to connect existing and planned neighborhood assets such as Chateau Hough, Fatima Family Center, the historic League Park, the Midtown Innovation Center and the Cleveland Foundation's future home into one seamless and walkable public realm.
Parks, Public Spaces and Third Spaces
We support partners including LAND studio, Cleveland Metroparks and others to promote the development and rebirth of Cleveland's signature public spaces as well as neighborhood pocket parks, connectors, third spaces and other civic and recreational amenities. Projects include Cleveland Public Square, Rivergate Park, Edgewater Park, and the Cleveland Foundation Centennial Trail: Lake Link. 
More recently, the #OurSpacesAllFaces campaign, led by Neighborhood Connections, is promoting inclusivity and a sense of belonging for all people in public spaces. The campaign shines a spotlight on the many ways people use their parks and neighborhood public spaces. 
Emerging Topics
Middle neighborhoods – Defined as places that are neither distressed nor thriving, middle neighborhoods are an emerging area of focus for community development in Cleveland. We've supported the work of the City of Cleveland and Cleveland Neighborhood Progress to identify Cleveland's middle neighborhoods and develop strategies to address the unique needs of these communities. Following the release of the Cleveland Middle Neighborhoods report, the next phase of this work involves testing interventions to stabilize these neighborhoods.
Experiencing place and community during a pandemic – We've supported pilot projects like Art Portal that use mixed reality tools and virtual 'spaces,' to help people stay connected to one another and their communities during COVID-19. 
Power
Helping organizations and individuals make change through the creation of wealth and power sharing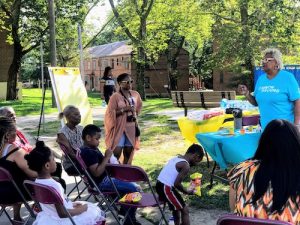 CLE Purpose Built Communities is a partnership between the Cleveland Foundation, St. Luke's Foundation, Cleveland Neighborhood Progress, Famicos Foundation, and the Cleveland Metropolitan School District to realize Purpose Built Communities' national model of holistic, resident-centered community revitalization in Cleveland's Buckeye-Woodhill and Glenville neighborhoods. Purpose Built Communities works to break the cycle of intergenerational poverty by bringing together the vital components necessary for holistic community revitalization:
High quality mixed-income housing
An effective cradle-to-college education pipeline
Comprehensive community wellness resources
Hebrew Free Loan Association of Northeast Ohio provides interest-free loans to address the financial challenges of Northeast Ohio residents, especially people of color with low- to middle-incomes who lack access to traditional lending sources.
Hough Community Land Trust is an independent, resident-led organization that works to ensure long-term real estate affordability while supporting racially and economically inclusive ownership and access in the Greater University Circle area. To protect against the destructive effects of gentrification, the land trust buys and leases land to developers after negotiating community benefit agreements. Launched in 2019 through a collaboration between Councilman Basheer Jones, New Village Corporation and the Cleveland Foundation, the land trust operates with support from Famicos Foundation, MidTown Inc., New Village Corporation and an eight-member board comprised mostly of Hough residents.
Clark-Fulton Juntos/Together: A Community Master Plan is an effort led by Metro West Community Development Organization, the office of Ward 14 Councilwoman Jasmin Santana, MetroHealth System, the City of Cleveland and the Cleveland Foundation to produce a resident-driven community master plan for the Clark-Fulton neighborhood. Through a year-long study that kicked off in January 2020, the Clark-Fulton community is envisioning strategies to create a more healthy, equitable and sustainable future for this vibrant and diverse neighborhood.
The Greater University Circle Initiative (GUCI) is recognized as a national model in anchor-driven holistic community development. First convened in 2006 by the Cleveland Foundation, GUCI harnesses the economic power of University Circle anchor institutions, including the Cleveland Clinic, University Hospitals and Case Western Reserve University, to spread and build personal wealth and promote neighborhood development.
Want to learn more about neighborhood and revitalization initiatives in Greater Cleveland? Check out our Neighborhood Revitalization & Engagement e-newsletter archive: