Your Charitable Partner
The foundation offers charitable funds that are flexible, innovative, and personalized. We can even help you create a giving plan and share ideas for involving your family in philanthropy.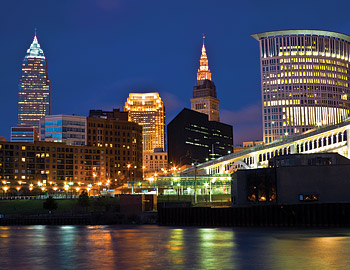 Through a partnership with the Cleveland Foundation, you will receive the flexibility, involvement, and recognition of a private foundation with the tax advantages and simplicity of a community foundation. Take a look at the types of charitable funds we have to offer. We also offer a variety of planned gifts. In addition, we invite you to review our guidelines for establishing a fund.
Based on your personal tax, financial, and planning needs, you can make a charitable gift today or in the future. Throughout this section of the website are listed various planning considerations for you and your professional advisors. The foundation allows you to give now or give later through wills, trusts, and bequests.
In addition to Cuyahoga County, we also support nonprofit organizations in Lake and Geauga counties through our Lake-Geauga Fund.
How to Get Started as a Cleveland Foundation Donor
Establishing a fund at the Cleveland Foundation is simple. The process can be completed in less than one day. There are a few factors that may help you decide what type of fund is suitable for you:
Are you interested in giving now or establishing a future gift?
I'm interested in a planned gift – that is, a charitable donation provided for during your lifetime but not available to the Cleveland Foundation until sometime in the future, such as a bequest or charitable gift annuity.
I'm interested in giving now.
Are you interested in supporting a specific Cleveland Foundation initiative?
We welcome the opportunity to help you establish the fund or make the charitable contribution that best suits your needs. You can reach our Advancement team by calling 216.861.3810 or by e-mailing us here.
Types of Funds
The Cleveland Foundation offers a variety of fund options to help you meet your philanthropic goals and respond to community needs. From donor-advised funds (which allow you to engage in active grantmaking) to Building Cleveland's Future funds (which rely on the foundation's knowledge of the community for grantmaking decisions), our funds allow you to select the manner in which you want to invest in Greater Cleveland.
Donor-Advised Funds
Donor-advised funds are charitable funds for donors seeking active involvement in grantmaking. Donors – and their children, if desired – advise or recommend grants from their fund to support nonprofit organizations. Donors can learn about community needs from the foundation's donor-focused educational seminars and information, and work with foundation staff to create a lasting, impactful philanthropic legacy.
Supporting Organizations
Supporting organizations are separate legal entities that are affiliated with the Cleveland Foundation. Established with their own boards of trustees, grantmaking identities, and governance structures, supporting organizations enjoy public charity status and the professional services of the foundation, including staff and administrative support. Learn more about our supporting organizations.
Partner with the Foundation on Priority Areas
The foundation has created special funds designed to address the community's priority areas. Donors are invited to participate with the Cleveland Foundation on major initiatives, such as improving public education and promoting economic development.
Areas-of-Greatest-Need Funds
Donors can support changing community needs by providing unrestricted support. Donors may create separate funds or donate to the foundation's endowment, current and future. The foundation's board of directors will use the funds to address pressing community needs.
Field-of-Interest Funds
Donors who select these funds are able to benefit specific programs in the arts, education, or another broad area. By naming a program area and not a specific organization, flexibility exists to meet the ever-changing needs of the community.
Lake-Geauga Fund
The Lake-Geauga Fund of the Cleveland Foundation provides grants to nonprofit organizations in Lake and Geauga counties. Established in 1987, the fund's grantmaking is directed by an advisory committee of community leaders living in one of those counties.
Scholarship Funds
Scholarship funds support those who want to pursue education, whether they're high school graduates pursuing a college degree or nontraditional students who are returning to the work force. Donors work with foundation staff to devise selection criteria. Donors may, if desired, also participate on scholarship selection committees with foundation staff and foundation-appointed community volunteers to identify recipients.
Designated Funds
Oftentimes, donors wish to support a specific nonprofit organization. Once established, grants are made annually to the organization(s). Foundation staff monitor the organization to honor your philanthropic intentions. With a designated fund at the Cleveland Foundation, you receive professional management and grant monitoring.
Organizational Funds
Organizations can establish endowment funds at the foundation. Created to provide financial support to the nonprofit organization in perpetuity and as a conduit for planned gifts, the endowment can be an "arrow" in a nonprofit organization's development quiver.
The Cleveland Foundation Fund Type Comparison
TYPE OF FUND
WHAT IT IS
ADVISOR
MINIMUM AMOUNT TO ESTABLISH
Areas-of-Greatest-need

A permanent fund that does not designate a particular charity or area of interest for grantmaking.

The donor relies on the Cleveland Foundation's board of directors to distribute money from the fund to areas where the needs are greatest.

$10,000

NAMED FIELD­-OF-INTEREST

A permanent fund that names a specific area of interest, such as education or the arts, as the recipient of grants from the fund.

The donor relies on the Cleveland Foundation to distribute money from the fund to institutions within that area of interest.

$10,000

NAMED DESIGNATED FUND

A permanent fund that names a specific charitable institution as its beneficiary.

The donor has indicated the beneficiary in the fund agreement.

$10,000

DONOR-­ADVISED FUND

A fund offering the ability for donors to make suggestions on which charitable causes are supported from the fund each year.

Donors are permitted to make grant recommendations. This right may also be extended to children of the donor.

$10,000

ORGANIZATIONAL FUND

A fund providing stable, predictable sources of income and future financial security to a 501(c)(3) charitable organization.

The organization specifies representatives who are permitted to request distributions from the fund in accordance with the provisions of the fund agreement.

$10,000

SCHOLARSHIP FUND

A fund to provide support for young persons or those who wish to continue education later in life.

The Cleveland Foundation appoints scholarship committee members; donors are permitted to recommend members based on objective criteria.

$25,000

$250,000

$500,000

SUPPORTING ORGANIZATION

An alternative to a private foundation that has its own board of trustees and grantmaking identities, but enjoys public charity status.

The board of directors of the supporting organization makes its own grantmaking decisions.

$5,000,000