Reflecting on an impactful journey 'centering' philanthropy
Bob and Sally Gries have collaborated to help enhance the quality of life in our region through decades of service and philanthropy
(This article originally appeared in the foundation's Summer 2023 issue of its Gift of Giving publication.)
Bob and Sally Gries were both introduced to the importance of philanthropy from early ages.
Bob, a fifth-generation descendant of the first Jewish settler in Cleveland in 1837, learned about the art of giving from his religion as well as his father and his family, who have positively impacted the Greater Cleveland community through civic service and charitable giving for generations.  One or two members of each generation created major changes for Cleveland which he talks about in his book, "Five Generations."
Sally credits her mother as her first mentor. "When I look at my past, I feel that my strongest mentor for philanthropy was my mother. She really taught me to volunteer at a very early age and to give my little pennies to different charities. And she was very inspirational because she dedicated her life to charity in many, many ways," Sally said.
Bob began his nonprofit service when he was in his 20s during the 1950s and had three of Cleveland's outstanding philanthropists as his mentors: Hughie O'Neill, James A. "Dolph" Norton and Bill Treuhaft.
That family history of philanthropy and service shaped Bob and Sally's approach to career and community. They have worked individually and collectively to volunteer and support various organizations, serving on nearly 70 nonprofit boards: Bob with 40 and Sally with more than 25. Their engaged board work on some of the organizations has spanned many years to help maximize impact. Bob has served 10 boards for over 35-50 years.
A deep connection to the Cleveland Foundation
Bob and Sally have a special connection with the Cleveland Foundation as the only married couple to have served two full 10-year terms on the board – Bob from 1972-82 and Sally from 2012-22. During Sally's board tenure, including her last three years serving as board chair, she played a vital role in the planning decisions for the foundation's new headquarters in MidTown.
"We were really looking for a place that could be for everyone," she said.
Sally hopes the opening of the new headquarters will provide greater access for grantees and donors to further enhance the foundation's efforts of working with everyone to collaborate and meet the needs of the community more effectively.  She also hopes that the foundation's greater MidTown revitalization project will provide jobs and value creation for neighborhood residents and become a model for other neighborhoods regionally and nationally.  "The Cleveland Foundation is at the cutting edge of innovative philanthropy nationally," Sally said.
Sally and Bob Gries Center for Philanthropy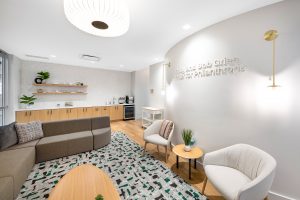 As a financial advisor, Sally has seen firsthand that gifting and grantmaking can be complicated for many donors. And over the years, she and Bob have also sought guidance, often from the Cleveland Foundation, to help them make philanthropic decisions. 
They hope their recent gift to the foundation to establish the Sally and Bob Gries Center for Philanthropy will encourage others to have important family discussions about philanthropy in a designated space for charitable planning and gifting and receive the guidance they need to make impactful philanthropic investments.
"Philanthropy has been and always will be very important to Cleveland. Without philanthropy, many of the community needs would be left undone. When I think about philanthropy for the long term, I think it's very important that we educate our community – our corporate community, our individuals – and that we collaborate to help enhance the quality of life in our region."
Cleveland Foundation President & CEO Ronn Richard agrees and credits philanthropists like Sally and Bob for playing a very important role in Cleveland's future.
"Philanthropy has always played a very important, oversized role in Cleveland, in my view," Richard said. "We'll always need great philanthropists with vision and passion for their community who are willing to give back and to mentor the next generation of philanthropists. It is appropriate and fitting that their names are on our new philanthropy center."
The Sally and Bob Gries Center for Philanthropy, located on the first floor of the foundation's new headquarters, is designed as a donor meeting and event space to host small-group meetings and planning. The entryway with a living room design and a second room with a half round "kiva" space will allow the foundation to convene family meetings and affinity groups such as Foundations for Philanthropy and the Corporate Network.
"As longtime philanthropists in the city, we have valued the Cleveland Foundation's resources and services to donors over the years. They've helped us in our gifting and our grantmaking, and they have helped others. And to bring it all together into one center is so important for donors and for the city long term," Sally said.
Catalysts for change
Sally believes philanthropy is most impactful when it takes risks. She and Bob have never been afraid to take the necessary risks to enact the changes they long to see.
In the early 70s she became a board member of the Women's Law Fund, a nonprofit that advocated for equal rights in the workplace and provided support for prosecuting precedent setting gender discrimination cases. During her time on the board, Women's Law Fund won a crucial U.S. Supreme Court case allowing pregnant women nationwide the right to teach in public schools. The catalytic funding for this high risk, highly successful project came from the Ford Foundation and The Cleveland Foundation.
In 1978, Sally's desire to effect change in the investment industry led her to start the first female-owned registered investment advisory firm in Ohio: Gries Financial Partners. 
Bob was also a pioneer for change, by catalyzing the nascent venture capital industry in Cleveland in the early 1970s as the founder of a Small Business Investing Company (SBIC). He also played a vital role in the Civil Rights Movement when he served as Carl Stokes' election campaign treasurer. In 1967, Stokes became the first African American mayor of a major U.S. city.  Bob believes his greatest contribution to effecting change at the Cleveland Foundation was to persuade board members, many of whom were several decades his senior, to agree to two 5-year terms so that others would have the opportunity to serve.  Following his Cleveland Foundation board service, he continued to collaborate with his dear friend, Steve Minter, for another 15 years and chaired several programs to help the foundation and grantees.
Risks, equality, and impact
The couple has supported a wide range of organizations throughout the years, and taking risks and advancing social progress is reflected in their grantmaking.
"We want to invest in those areas that we think we can have significant impact," Sally said. "…it's very important that foundations play a role that is a little bit like being a venture capitalist, being willing to take risks to catalyze very important philanthropy."
Through their family foundation and donor-advised and named funds at the Cleveland Foundation, Sally and Bob have supported positive developments in education, arts and culture, and healthcare. Some of the projects and nonprofits closest to their hearts are the Hawken School Gries Center for Service & Experiential Learning and Vocational Guidance Services, a nonprofit dedicated to serving disabled people by offering key tools like job training and skill development.
"Through our philanthropy, we wish our legacy to be one of helping other people – most of whom will never know who we are," Sally said.