Click Here to Give to the Greater Cleveland COVID-19 Rapid Response Fund
A coalition of Northeast Ohio philanthropic, corporate and civic partners have joined together to create the Greater Cleveland COVID-19 Rapid Response Fund to deploy resources to nonprofit organizations serving on the frontlines of the pandemic in our region.
updated May 29, 2020, 1 P.m. EST
About the Rapid Response Fund
The Greater Cleveland COVID-19 Rapid Response Fund was established on March 18, 2020, to complement the work of public health officials and expand local capacity to address all aspects of the outbreak as efficiently as possible. The Rapid Response Fund will provide grant awards on a rolling basis to nonprofit organizations in Cuyahoga, Lake and Geauga counties.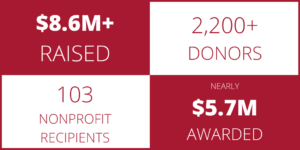 Support for the Rapid Response Fund has been made possible by individual contributions and major gifts from:
The Abington Foundation

Bank of America

The Bruening Foundation

Catch Meaning Fund
Chip and Karen Chaikin
Citizens Charitable Foundation
The City of Cleveland
Cleveland Cavaliers and Rocket Mortgage FieldHouse organization

Cleveland Foundation

Cleveland Indians Charities

Community West Foundation
Pam Conover and Jon Adams

Cuyahoga County

The Dan and Ellen Zelman Family Foundation of the Jewish Federation of Cleveland
The Davies Family
Deaconess Foundation
The DentaQuest Partnership for Oral Health Advancement
Dollar Bank
Dominion Energy
First National Bank
The Frank Hadley and Cornelia Root Ginn Foundation
Barbara and Peter Galvin

The George Gund Foundation

George W. Codrington Foundation
Giant Eagle Foundation
The Glenmede Trust Company, N.A.
JoAnn and Bob Glick
The Gries Family Foundation
Gries Financial Partners
Haslam 3 Foundation
Karry and Jonathan Hatch
HealthComp Foundation
The Higley Fund
Huntington Bank
Jack, Joseph and Morton Mandel Foundation
Jewish Federation of Cleveland
The Kelvin and Eleanor Smith Foundation
KeyBank Foundation

Kramer Family Foundation
Lincoln Electric
Lowenthal Family Fund
The McHale Family Foundation
Medical Mutual
The Meisel and Pesses Families

Mt. Sinai Health Care Foundation

Mullin, Shank & Rehak Family
The Neary Family
David and Katharine Outcalt
Jane and Jon Outcalt Foundation
Robin and Jon H. Outcalt Jr.
PNC
Judy and Bob Rawson

The Reinberger Foundation

William W. Rowley
RPM International Inc.

Saint Luke's Foundation

Samuel H. and Maria Miller Foundation
The Sherwin-Williams Company

Sisters of Charity Foundation of Cleveland

Solarflo Corporation
The Stone Family Fund in memory of
Lael Stone, M.D.
Bill and Pam Summers
Swagelok Foundation
TEGNA Foundation
Third Federal Foundation 

The Thomas H. White Foundation, a Key Trust

Three Arches Foundation
The Treu-Mart Fund
Union Home Mortgage Foundation

United Way of Greater Cleveland

UnitedHealthcare
U.S. Bank
William J. and Dorothy K. O'Neill Foundation
Margaret W. Wong
Woodruff Foundation
Sandy and Tim Wuliger
Grantee Partners: Nearly $5.7 million awarded
Round 8 Grants: Awarded on May 29, 2020

Food & Shelter

Connectivity

Clinical & Behavioral Health

Other Vulnerable Populations

Small Community Grants

Round 7 Grants: Awarded on May 15, 2020

Food & Shelter

PPE

Salaam Clinic of Cleveland ($25,000): To purchase personal protective and infection control equipment and additional technology resources that will allow the clinic to resume operations providing health care services to the uninsured and underinsured population of Northeast Ohio.
Greater Cleveland Neighborhood Centers Association ($85,000): To support the #Masks4Community project, which will distribute 33,000 kits in Cleveland and East Cleveland neighborhoods. The kits will include: a washable mask, safety outdoors coloring sheet, 2020 Census, Election/Voting and COVID-19 safety information. The kits will be distributed to essential community locations, including grocery stores, pharmacies, discount stores and food bank sites.

 Vulnerable Populations

Forbes House ($80,000): To help Lake County's only domestic violence shelter increase capacity to support the growing number of low-income and at-risk families dealing with trauma by providing emergency shelter, mental health counseling and access to technology.
HELP Foundation ($100,000): To continue providing uninterrupted services, including expanded meal delivery, virtual programming, emergency sanitation and PPE supplies, to those with intellectual and developmental disabilities at more than 20 residential locations.

Kidney Foundation of Ohio ($25,000): To provide medications, transportation support, emergency assistance and patient service programs to those living with kidney disease in Greater Cleveland and throughout Cuyahoga County.
Long Term Care Ombudsman ($13,000): To upgrade existing technology to allow certified staff and volunteers across a five-county footprint to advocate for excellence in long-term care services while nursing homes and other care facilities are closed to outside visitors.
Paralyzed Veterans of America, Buckeye Chapter ($18,000): To provide food, medical supplies and other basic needs to honorably discharged veterans with spinal cord injuries or disease, including Multiple Sclerosis and ALS.

Cleveland Rape Crisis Center ($90,000): To support case management and hotline staff and coordinate new service delivery methods for survivors of rape and sexual abuse.
Ravenwood Mental Health Center ($15,000): To provide emergency food delivery, toiletries and hygiene products at this community mental health and addiction treatment center serving Geauga County.
United Cerebral Palsy of Greater Cleveland ($50,000): To cover increased staffing expenses due to COVID-19, including 24/7 care at group homes, virtual employment services, tele-education, telehealth and nursing services for individuals with disabilities.

Round 6 Grants: Awarded on May 1, 2020

Food & Shelter

Behavioral Health

Round 5 Grants: Awarded on April 24, 2020

Round 4 Grants: Awarded on April 17, 2020

Food & Shelter

Comprehensive Basic Needs

Disabilities

Youth/Education

Other Vulnerable Populations

Round 3 Grants: Awarded on April 10, 2020

Food & Shelter

Personal Protective Equipment

Comprehensive Basic Needs

Youth/Education

Other Vulnerable Populations

Small Community Grants

Round 2 Grants: Awarded on April 3, 2020

Food & Shelter

Comprehensive Basic Needs

Behavioral Health

Youth

Immigrants, Refugees & New Americans

Other Vulnerable Populations

Round 1 Grants: Awarded on March 27, 2020

Greater Cleveland Food Bank ($300,000): To support the dramatically increasing needs of individuals impacted by food insecurity including children, families, seniors and individuals with health challenges. This funding will help to subsidize emergency food resources as well as programming and supplies that will be needed in the coming weeks and months. The Greater Cleveland Food Bank is the largest hunger relief organization in Northeast Ohio, having served more than 350,000 people in Cuyahoga, Ashtabula, Geauga, Lake, Ashland and Richland counties in 2019.
MedWish International ($70,000): To collect and provide access to Personal Protective Equipment (PPE) and other in-demand medical supplies for local health care institutions. MedWish will identify the most needed items and pull those from its inventory to make them available as quickly as possible upon request. This includes ventilators, PPE and respiratory supplies. This grant will also help MedWish coordinate local donation drop-off locations throughout the community to collect excess items individuals may have in their homes that are in high demand by local health care facilities (such as gloves, masks and hand sanitizer).
Northeast Ohio Coalition for the Homeless (NEOCH) ($70,000): To provide emergency lodging that will allow unsheltered individuals to remain quarantined before the pandemic reaches its peak. By placing these individuals in emergency lodging, they will have the opportunity to avoid risks associated with sleeping outside and can practice more effective social distancing. Further, NEOCH will be able to centralize outreach and coordinate efforts more effectively since it will be easier to get food and supplies to the people it serves.
Senior Transportation Connection (STC) ($60,000): To continue to provide essential medical and food access services to older adults in the community. In many cases, STC serves as a last-resort service for older adults with mobility needs and limited social supports. More than half of those served by STC are 75 years and older, while nearly 60% are low income – two demographic groups identified as particularly vulnerable populations during this crisis.
Frequently Asked Questions
What are the funding priorities of the Rapid Response Fund?
The Rapid Response Fund will deploy resources to address the urgent health, basic human services and economic needs of disproportionately impacted communities and individuals. Initially, grant funding will support nonprofit organizations that provide community safety nets and have strong experience working with the immediate needs of populations made vulnerable by the COVID-19 pandemic. Specifically, the Rapid Response Fund will support nonprofit organizations that serve:
People over 60 years of age, people with compromised immune systems, those who are pregnant and others with increased health risks associated with the novel coronavirus
Low-income residents
Homeless people
Residents without health insurance and/or access to paid time off work
People with limited English language proficiency
Healthcare, service workers and part-time workers
People of color
People with disabilities
Incarcerated and returning individuals
Other populations emerging with needs as the crisis unfolds
The Rapid Response Fund will support organizations that are able to deploy resources quickly to meet emergent community needs. Funding partners will also advocate for scaling public sector action that promotes robust and timely public sector financial investment and needed regulatory, administrative and/or program adaptations to address this crisis, including issues surrounding evictions and utility shut-offs, unemployment benefits and lapses in health insurance coverage for children and those supported by Medicaid.
How can my organization apply?
Frontline nonprofits that have pressing needs related to the COVID-19 crisis response should email covid19response@clevefdn.org to receive more information about the streamlined funding process. The funding collaborative will continue to identify potential grantee partners, solicit guidance on proposed projects from community advisors and recommend final awards. Organizations that have already submitted funding requests will remain in consideration for future grant distributions until further notice.
Based upon the charitable structure of the Rapid Response Fund, grants are limited to 501(c)(3) nonprofit organizations, groups fiscally sponsored by a 501(c)(3) nonprofit organization or other charitable organizations able to receive a tax-deductible contribution, such as schools, faith-based organizations and other public entities. The partners are not able to fund individuals or businesses directly, labor unions or other 501(c)(4), 501(c)(5) and 501(c)(6) organizations.
For now, the fund is designed to be fully distributed in 2020. 
How often are grants awarded?
Starting May 1, Ohio begins to implement its Responsible RestartOhio plan. As we deepen our understanding of the breadth and depth of community needs and hear from our nonprofit partners about some 'big picture' questions that require critical reflection, we are compelled to slow the pace of our grantmaking from weekly to biweekly. This new cadence will give grantmaking staff time to collect deeper information from our community partners, leverage and complement Rapid Response Fund resources with those of other sectors, and make even more thoughtful grants with an eye toward scale. This change of pace is a pilot for now, as we learn in real-time how we can most effectively support those working on the frontlines.
 
Please understand that the central purpose of the Rapid Response Fund has not changed: to quickly deploy resources that will assist our nonprofit partners in meeting the pressing needs of the region's most vulnerable people. We hope the new biweekly schedule will allow us to meet these needs as our communities begin to re-emerge and navigate what's next together.
What will be prioritized in early funding, and what will NOT be included?
As fundraising continues throughout the outbreak and recovery phases of the crisis, funds will be released on a rolling basis, making it possible to deploy resources quickly and adapt to evolving needs. In the beginning, the fund is prioritizing nonprofit organizations that are serving individuals who are suffering immediately and disproportionately from this crisis. At this time, the Rapid Response Fund is not able to prioritize larger public institutions that are strained by increased demand for services.
I am an individual who has been affected by COVID-19. Can this fund help me?
We understand many people have already been affected by COVID-19, and more will continue to be affected. Greater Cleveland COVID-19 Rapid Response Fund partners are deploying resources to nonprofit organizations that directly support residents who are at the highest risk for emerging health, economic and social impacts of the pandemic. The Rapid Response Fund will not provide grants to individuals.
If you are looking for resources now, please consider calling the United Way of Greater Cleveland's 2-1-1 Help Center. Visit www.211OH.org or dial 2-1-1 for support and more information.
Event cancellations have impacted our organization's revenue. Are we eligible to apply?
In the beginning, the Rapid Response Fund will not be able to prioritize organizations that have lost revenue or are likely to lose future revenue due to canceled events or programs. The partners recognize these challenges, and as the crisis and long-term impacts continue to unfold, the collaborative will continue to assess and evolve funding strategies.
Who can contribute? 
The partners encourage individual donors, companies, additional funders and other organizations to contribute to the Rapid Response Fund. Online gifts via credit card will have the most immediate impact. Donations of any amount are welcomed, and all contributions are eligible for a charitable deduction. If you are a Cleveland Foundation fund holder and would like to recommend a grant from your fund, please log in to the donor portal or contact your donor relations advisor for instructions.
I want to donate. Can I restrict my funding to a specific grantee?
To ensure the Rapid Response Fund moves resources as efficiently as possible and responds to needs of communities most impacted, we are not considering donations restricted to specific agencies or causes at this time.
Is this the only community response fund?
The Rapid Response Fund was not created to be the only vehicle for getting needed resources into the community, but to deploy coordinated resources strategically and effectively. Pooling dollars allows for a unique opportunity for leverage that a single donation cannot alone provide.
This is a critical time for so many, including the nonprofit organizations that may have benefited from community giving in the past, as well as those that have had to cancel their annual fundraising events or depend heavily on public gatherings. Please continue to give to organizations you regularly support and those that need your help at this crucial time. Now is the time to double down for our community.   
Nonprofit organizations are encouraged to be in contact with any foundation with which they already have a relationship. Many of the foundations that have given to the Rapid Response Fund are also conducting their regular grantmaking processes.
How will the Rapid Response Fund shift gears if needed?
The Rapid Response Fund priorities may evolve as our region adapts to the COVID-19 outbreak. We will continue to prioritize communities most impacted, recognizing deep and historic inequities that are likely to be magnified in times of crisis. Crisis philanthropy is centered on meeting immediate needs with an eye toward long-term recovery and community resilience.
What other types of response work are being emphasized? 
The Rapid Response Fund also seeks to award grants that:
Lift up approaches tailored to specific cultural, historic and language needs of disproportionally impacted populations.

Support demonstration projects from which others can learn

.

 

Enhance projects funded with public dollars and/or projects that are complementary to other recovery efforts.

 

Help establish

 a structure whereby grantees c

an

 collaborate, thereby leveraging new resources and maximizing impact

 (e.g. e

nvironmental organizations, public policy groups, arts and cultural nonprofits, community engagement organizations and media outlets working collaboratively

to address the pandemic

).

Support and encourage collaboration among grantees, public health entities, emergency management personnel, first-responders and long-term recovery group members.

 
Please contact covid19response@clevefdn.org for questions about the grantmaking process.
Latest News
May 29, 2020
Greater Cleveland COVID-19 Rapid Response Fund partners announce latest round of grantmaking
May 15, 2020
Partners announce latest round of Greater Cleveland COVID-19 Rapid Response Fund grant recipients
May 1, 2020
Partners announce latest round of Greater Cleveland COVID-19 Rapid Response Fund grant recipients
April 24, 2020
Partners announce fifth week of Greater Cleveland COVID-19 Rapid Response Fund grant recipients
April 17, 2020
Greater Cleveland COVID-19 Rapid Response Fund partners announce latest round of grantmaking
April 10, 2020
Musical artists help raise dollars for the Greater Cleveland COVID-19 Rapid Response Fund
April 10, 2020
Greater Cleveland COVID-19 Rapid Response Fund partners announce recipients of third week of grantmaking
April 3, 2020
Greater Cleveland COVID-19 Rapid Response Fund partners award $1.18 million in second week of grantmaking
March 27, 2020
Greater Cleveland COVID-19 Rapid Response Fund awards $500,000 in initial round of grantmaking
March 23, 2020
Community rallies to raise more than $5.37 million to date for Greater Cleveland COVID-19 Rapid Response Fund
March 18, 2020
Philanthropic partners announce creation of Greater Cleveland COVID-19 Rapid Response Fund