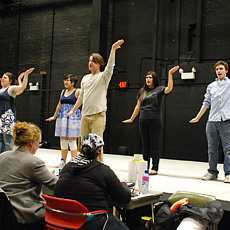 What do Adam and Eve, Jews, Japanese Americans, Armenians and Native Americans have in common? These and other peoples have all experienced exile from their homeland and the hardship and conflict of being displaced.
Some, like Japanese Americans during WWII, and Native Americans even today, were exiled within the borders of their own country – to internment camps and reservations. Others were forced out of their homeland to wander and face discrimination in other lands.
The commonality and brutality of exile across the centuries and the globe is the subject of "codename:EXILE" a play being developed and produced by Cleveland State University drama students under the direction of visiting Turkish artist in residence, Özen Yula. The play tells the stories of eight different groups of exiles from different historical eras. It will be performed in CSU's Factory Theater April 22 through May 3, Thursday, Friday and Saturday evenings at 8 p.m. Contact the box office at 216.687.2109 for tickets.
I was privileged to view a rehearsal of the play this week and was impressed with the commitment and energy of the 22 students who make up the cast and crew. Özen is also impressed with the students, remarking that many of them hold jobs as well as attending classes, yet they bring great passion to their work with him. (Rehearsals go late into the evening.)
From what I observed, this play will be filled with powerful images and very dramatic, often stylized action. The audience will have a unique experience as well, since the stage is being built around and through the entire black box space of CSU's Factory Theater. The audience will be required to move and turn to follow the action as it moves around them. I'm told that the unique experience will actually begin as soon as audience members enter the theater. (I won't say any more. You'll have to find out for yourself.)
Özen's work at CSU is part of his long-term residency in Cleveland, supported by the Cleveland Foundation's Creative Fusion program. He's already helped a group of Cleveland Municipal School District teens create their own play, and will be working with Cleveland Public Theater this spring and summer to write and produce another world premier for CPT's fall season. More on all this later. For now, here's a few photos from the rehearsal at CSU.