Serpil Sevgen is a Turkish school counselor and artist who uses the arts as a tool in her counseling work with youth in Istanbul. Serpil is another of the foundation's Creative Fusion artists and she has brought both her counseling and her artistic skills here to work with the dedicated young people in Young Audiences' summer ArtWorks program.
Serpil's specialty is in the ancient Turkish tradition of paper marbling – painting on water and transferring the design to paper or fabric. (Think of all the beautiful marble-like or feather designs inside linings of old book covers – or on the Kleenex box sitting on my desk at work.) 
It was not clear at first if Serpil would be able to come. Her employers – the government of Turkey, which runs the national education system – did not fully understand the value of her work and why an American organization would want to use her services. They did not immediately grant her permission to leave.
Serpil had to take one of the officials from the Ministry of Education with her on a trip to Spain, where she was demonstrating her technique. After observing her engagement with students, the official understood the unique approach Serpil takes in helping young people discover things about themselves while learning this mesmerizing and challenging art form. Permission was granted and Serpil now has a friend in the Ministry of Education.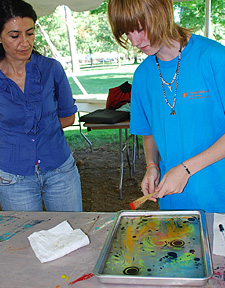 I observed several of Serpil's classes in the big tent on Wade Oval that houses Young Audiences' program She begins with games that help her students begin to think about aspects of themselves – how they relate in groups, what their ambitions are for themselves – what their personal philosophy of life might be. With this as a foundation, she introduces the delicate and quiet approach needed to engage with the art form. She explains the special water and natural chemical mix that will hold paint in suspension on its surface, the tools – simple brushes made of horsehair or straw, combs, sticks. And then she demonstrates how to hold your body steady, focus and release the paint onto the surface of the water.
Each design is unique to the person making it and can never be repeated. She encourages each student to think about what the colors mean to them and to think carefully about every color and every delicate stroke they make to energize the paint into a flowing design.
It is like magic when the paper is laid on the water and then pulled slowing out, transferring the design to the paper and leaving the water a clean canvas for the next student. See examples of their work below.
Each member of the class watches intently, learning from the work of his or her predecessor. It was so interesting to see how focused, quiet and serious the students were – and how they appreciated each others' work. When I asked what one student noticed about her first try at this new art form she said, "I was nervous, but it was so peaceful. I didn't think about anything else. My mind was completely calm. I don't ever remember anything ever being that quiet for me before."