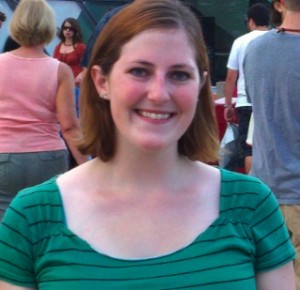 Everyone knows who Amelia Earhart was. Her disappearance is perhaps more widely known than her participation in the 1929 Women's Air Derby, but here at the International Women's Air & Space Museum it is her life and her contributions to women in aviation for which she is celebrated. Luckily for me, she is also the reason I get to spend my summer digging through the museum's files and photographic collection of early female pilots. I was fortunate enough to be selected to participate in the Cleveland Foundation Summer Internship Program and placed in my first choice organization.
My main project here is to gather, organize, digitize, and catalog the museum's vast collection of Amelia Earhart photos. These photos run the gamut from widely distributed press photos to small, personal snapshots from before she became a famous aviatrix. Along with the typical information recorded when cataloging the images, I have been able to use my sleuthing skills to try to contextualize them. This involves comparing the many pictures to each other by drawing on my visual memory, consulting the overflowing Amelia files consisting of newspaper clippings, correspondence, and more, and even doing some good old fashioned Google searches for visual comparisons of her companions. I have been extremely fortunate to have as much freedom and use of the museum's resources as I need to successfully complete the project, and I have found my work very satisfying.
In addition to this project, I have taken on some extra tasks as the museum transitions between Executive Directors. Our annual wine tasting fundraiser, Corks in the Concourse, will happen on September 2nd,the Friday before the Air Show, so I have been helping to get ready for one of the busiest weekends at our home in Burke Lakefront Airport. I have written letters to local and national organizations asking for donations for our silent auction, used my existing contacts to book a music program, and I designed the invitations using software with which I had no previous experience. The other people in the office have been very welcoming and encouraging, including me in their own projects and allowing me to bring my own strengths and personality to add to the museum and its programming.
It is easy to feel inspired in a museum celebrating the history of women in aviation and space, but this internship has gone above and beyond my expectations. I feel that I have thrived in this environment, and I have truly embraced the freedom and creativity given to me on my various projects. My main objective in this internship was to make a difference, however small, on a nonprofit organization, and I feel that I have left my fingerprint and accomplished my goal. I can't wait to see what the rest of the summer holds and how this internship will shape my path after it ends in August!
Check out IWASM by visiting:
Or come visit! We are free! Located in Burke Lakefront Airport in downtown Cleveland. If you are interested in joining us for Corks in the Concourse, give us a call at 216.623.1111.
Each week we use this space to give each of our interns a chance to reflect on their internship experiences. Colleen is a graduate student at Case Western Reserve University. Placement: International Women's Air & Space Museum