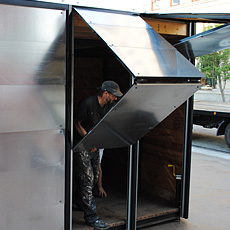 Rather than "How to move a store," this blog should be titled "Why move a store?" When Creative Fusion artist Cristián Schmitt came to Cleveland from his home in Santiago, Chile, in April this year, he saw much to inspire him in creating new work. Cristián is an architect-designer with a passion for finding solutions for distressed urban environments. He built temporary housing for the disaster victims of Chile's devastating earthquake, and is committed to working as much as possible with green technology and recycled materials.  
In Cleveland he saw both the vacancy of retail in the downtown area as an opportunity. What if, he said, retail vendors could rent a shop that could be moved from place to place, but also be secure from weather and theft and be big enough to hold substantial inventory? They wouldn't have the expense and risk of a long-term lease on a storefront and could, over a season, experiment with different locations for their wares. And Cleveland neighborhoods could have more vitality at street level from unique local retail vendors. 
Enter SHOPBOX, the prototype of just such a portable retail space. And we are not talking food carts or kiosks, here. The SHOPBOX is a 13 x 7 x 9 foot enclosed space, with floor, walls, doors, and a skylight roof that can be configured in a wide variety of ways to accommodate many different kinds of salable goods. And it can be picked up and loaded onto a flatbed truck for transport in 15 minutes. 
Made of recycled materials from RTA bus stops, reclaimed wood, and used street and traffic signs, and fabricated by Cristián and metalworker Mike Moritz in the Tyler Village artist/industrial complex in Midtown, SHOPBOX had its premiere outing as the bar for Playhouse Square's Block Party on Star Plaza last Friday. It will move to the Ingenuity Festival as the t-shirt and information booth next week and then to the plaza at Progressive Field during an Indians' game.
Not quite finished for its Playhouse Square debut (a few of the wall panels had not yet been installed), still the SHOPBOX performed perfectly as crowds lined up for drinks at the Block Party. It will have its doors and walls complete for Ingenuity.
I will post more about Cristián and his Creative Fusion residency in future blogs – including the incredible research and planning – and collaboration – that went into the conception and manufacturing of the SHOPBOX.