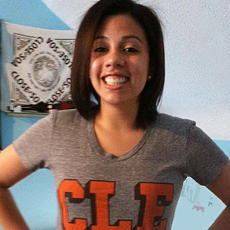 "The city of Cleveland has defined the person that I have become… Diverse and culturally rich neighborhoods such as downtown Cleveland, Ohio City, Coventry, and Tremont have motivated me to orient my academic endeavors toward the development and restoration of Cleveland. Since the early 2000's Cleveland has been labeled the "comeback" city. While large scale projects such as the Euclid Corridor Transportation Project have made efforts to give the skeleton of the city some much needed support, little focus has been placed in the heart of what I find will truly revitalize Cleveland, the restoration and functionality of its historic buildings. Cleveland houses a range of architectural styles from neoclassical influenced by the City Beautiful Movement, to fused Art Deco and postmodern design."
Above is an excerpt from my statement of purpose for admission to the University of Delaware. Needless to say I am obsessed with Cleveland and its significant history. While appreciating history and wanting to preserve Cleveland's architectural integrity is all fine and dandy, I came to the realization that there needs to be a balance of yesterday, today and tomorrow. Through the Cleveland Foundation's summer internship program I am learning about the various tools available throughout Cleveland that can be used to reach this balance.
And what better way to learn than through ones peers? Experiencing my fellow interns host sites through the professional development seminars has given me a new perspective on what the city of Cleveland needs and what its residents want. The concepts of mixed-use space, community development, Cleveland-based entrepreneurship, "brain drain" and "boomerangers" have been hot ticket topics at the weekly professional development seminars. After critically analyzing these topics and others, I was able to see how each topic played a role in yesterday, today and tomorrow.
Through the program I have come to learn that various nonprofits such as the Downtown Cleveland Alliance and Northeast Shores Development are already stepping up to the plate and initiating the discussions needed to address these topics. Now the question is, how is the next generation going to build off of the foundation that these nonprofits have already established for this beautiful city of ours? I know that the Cleveland Foundation interns are already working on ways to keep up the momentum.
Each week we use this space to give each of our interns the chance to reflect on their internship experiences. Keisha Gonzalez, a senior at Cleveland State University, will be placed at Progressive Arts Alliance. Keisha will work on development and marketing projects and help plan the Hip‐Hop Summer Arts Camp and benefit concert.