Ivan (ee-VON) Andres Lecaros Correa is fond of saying, "If I tell you what all the symbolism is in my art, I would go to jail." Ivan is one of the Cleveland Foundation's 2012 Creative Fusion artists. He's from Santiago, Chile, and he grew up under the Pinochet regime – an experience that has had a profound effect on his work as an artist.   
Ivan knew he wanted to be an artist while still a young child.  His mother has saved drawings of his from the age of 4.  Some of these remain his favorites.  Two in particular he claims to be his best drawings, perhaps because they depict the subjects that remain at the heart of his work to this day – a Prince who gave up everything for his people and the Devil: social good and social evil.
Both Ivan and members of his family suffered significantly under the Pinochet government – both physically and emotionally. Ivan is a master printmaker and as he learned his craft, he quickly began to receive recognition for his work – everywhere but in Chile. He refused to go along with the government-sanctioned approach to art and he became quite an outsider in the contemporary art scene in Chile.  As a result, he suffered serious discrimination from the commercial, academic, and fine art worlds there.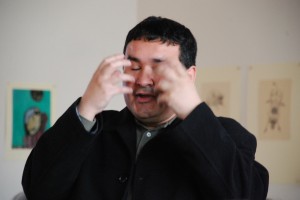 As he matured, Ivan's eyesight began to fail. For many years he could only draw by placing his face no more than 2 inches from the paper. His drawings and prints became smaller and smaller – with some no more than one inch square. Even so, his work has the most incredible detail. Several years ago, he took an enormous chance and had an operation on his eyes. He now sees normally, and his work is changing as a result. 
Here in Cleveland, Zygote Press is hosting Ivan. He's been very busy putting together his first public exhibition. While he had submitted prints to large international group shows in the past and won many awards, this is the first time he is showing a body of work. His exhibition opened Oct. 13 and will run through the month at Zygote. 
Interestingly, even though he is a master printmaker, Ivan had never done silkscreen printing before. This is a new technique for him, and the artists at Zygote have been working with him so he can take his learning back to Chile.
Artist and volunteer Jason Lehrer has been his primary helper and supporter at Zygote and has developed a close friendship with the artist during his time here. Most of the work in Ivan's exhibition is silkscreen prints. 
There are so many wonderful stories I could tell about this seemingly shy but very funny, passionate, and socially committed man.  One thing that he has said about his experiences in Cleveland that seems to have great meaning for him: "In Chile, artists are 'takers'— jealous of anyone better than them.  Here, artists are givers, sharing everything and always willing to teach you what they know."  He says this is a spirit he will try to take back with him. 
Ivan is teaching a "Printmaking Bootcamp" class to the students at the Cleveland Institute of Art while he is here and also working with youngsters at the Boys and Girls Club and Esperanza.