Summer is here in the C-L-E, and it's never felt quite this good.  We witnessed the Cleveland Cavaliers win the NBA Championship in historic fashion, and my summer internship with FutureHeights is off to a great start!
FutureHeights, Cleveland Heights' own civic engagement nonprofit, works to create a vibrant and sustainable future for the cities of Cleveland Heights and University Heights. FutureHeights does this by fostering cooperative efforts between residents, business owners, community-based organizations and local governments. The work is truly grassroots in nature, and rewarding, as my project helps organize individuals from these communities to collaborate and coordinate. The mile-long Cedar Lee Business District, located in the heart of Cleveland Heights, is experiencing an incredible transformation. Cedar Lee is undergoing a two-phase streetscape project involving the paving of roads, the creation of new sidewalks, and the installation of trees, traffic signals and light fixtures. Although the result of these projects will be positive for the district, some of the merchants are suffering negative consequences. Business has been lost due to the construction, and the need for more foot traffic in the district is imperative. The vast majority of the businesses in Cedar Lee are locally owned, and 30% are owned by women and minorities. To combat the loss of business, FutureHeights is organizing the first, "Cedar Lee Hard Hat Happy Hour!"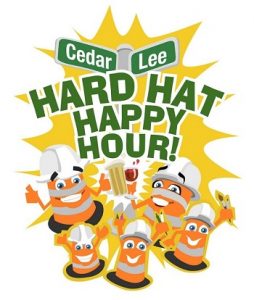 The event will take place on a Friday in August, between the hours of 5 and 8 p.m., and it's going to be barrels (not the orange kind) of fun. Participants can purchase hard hats for $4, and local businesses will offer special promotional deals to those wearing (or carrying) a hard hat.  A decoration station will be available to enable participants to beautify, personalize, or stylize their hard hat. Visitors will also be able to post pictures of themselves on social media, to be entered into a raffle to win a gift basket. Local musicians will perform, and fun activities for people of all ages will be available. Stay tuned for more details on what promises to be an incredible evening of fun under the sun in the construction zone!
Meanwhile, FutureHeights continues its work to build the Cedar Lee district. For several weeks, our organization has been developing programs to fill vacant storefronts. A "New Business Competition" and an "Artist Pop-Up Program" aim to fill the vacancies with sustainable small businesses and vibrant artwork.  The internship has been everything I could imagine and more, and I look forward to the next several weeks with the Cleveland Foundation and FutureHeights.
Kirby Suntala, a senior at Cleveland State University double majoring in Urban Studies and Nonprofit Administration, is placed at FutureHeights. Kirby assists with management of a Storefront Vacancy Program for Heights Community Development Alliance and seeks to build collaborations with other non-profits, residents and businesses for storefront and street activation projects.