Our #SummerOfPurpose blog series follows this year's Cleveland Foundation Summer Interns as they spend 11 weeks working with Cleveland-area nonprofit and public sector organizations. In today's blog we hear from Brittany Kincaid, who is working with Fairhill Partners, where she conducts background research/stakeholder interviews, implements and analyzes surveys, and prepares reports and presentations in an effort to further Fairhill Partners' evidence-based health programs, managed care, and volunteer recruitment.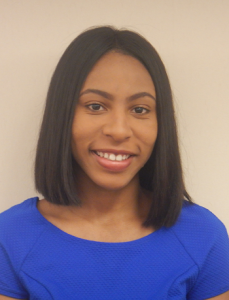 Brittany Kincaid
College: John Carroll University
Hometown: Cleveland, OH
Internship Host Site: Fairhill Partners
Why did you initially decide to participate in this internship program?
I grew tired of working jobs that I felt were not relevant to what I wanted to accomplish in life. I wanted to find a beneficial way to spend my summer.
What has been the most valuable aspect of your internship experience?
The valuable aspect of my experience is learning all of the things that I am capable of in the workplace. I have more autonomy in what I do and I am forced to be a self-starter instead of following a checklist. I look forward to seeing the Walk With Ease grant proposal that I am working on with my supervisors be approved in the future. Another valuable experience was facilitating a focus group for Fairhill's Kinship program. It gave me a greater appreciation for my own upbringing and gave me insight on issues that I did not know much about. The women were very humorous, caring, and certainly strong in every sense of the word. 
What has been the most challenging aspect of your internship experience?
The most challenging aspect has been not having the checklist that I am used to. In the beginning it was difficult for me to adapt to an environment that can sometimes be unpredictable. This experience is teaching me to be more flexible and innovative.
What are your career goals after college?
My career goals after undergrad are to receive my masters in Public Health, work for the National Health Corp, and work as a health educator to improve the health literacy and disparities in underserved communities.
How has this internship helped you grow professionally? 
It has taught me to take more initiative and be more assertive.
How has this internship helped you grow personally? 
This experience has helped me to be more sensitive and more understanding towards other people's situations. It has taught me to never judge a person by what they look like or by their circumstance because you never know how one factor or event can land you in a place you never imagined being in.
What advice would you give to someone considering applying for the Cleveland Foundation Summer Internship program?
Be open to people's differences. Be sure that you have a passion for helping others and working for a cause that is bigger than you.