Our #SummerOfPurpose blog series follows this year's Cleveland Foundation Summer Interns as they spend 11 weeks working with Cleveland-area nonprofit and public sector organizations. In today's blog, we hear from Maritess Escueta, who is working with Cuyahoga Arts & Culture, where she develops and executes a summer listening project that blends volunteer coordination, community outreach, creative storytelling, and research as part of a broader effort to engage residents across Cuyahoga County in arts and culture opportunities.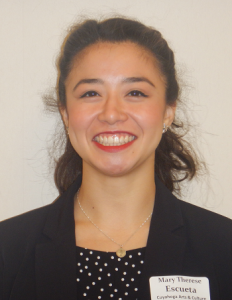 Maritess Escueta 
College: Case Western Reserve University 
Hometown: Eatontown, New Jersey 
Internship Host Site: Cuyahoga Arts & Culture 
How did you first hear about the Cleveland Foundation Summer Internship Program?
I found out about the internship program through my university's Center for Civic Engagement and Learning office. I thought it sounded interesting, so I decided to apply!
Why did you initially decide to participate in this internship program?
After I learned more about the internship program, I realized this would be an awesome opportunity that I couldn't give up. I'm a sociology and dance double major at Case Western and one of the host sites was Cuyahoga Arts & Culture, one of the largest public funders of arts and culture in the country. CAC does a great job connecting residents in Cuyahoga County with arts and culture, and I wanted to be a part of it.
What has been the most valuable aspect of your internship experience?
It's hard to pick just one valuable aspect – there's so much! If I had to pick one, the most valuable part of my internship with CAC is the opportunity to meet and network with so many inspiring people. My SIP cohort is a great group of individuals—I am so glad we've all become closer through this program. Additionally, all my coworkers at CAC are really hardworking and fun. It's a joy to work side by side with them every day. Finally, meeting tons of role models at and through the Cleveland Foundation has been great. I love to see how people's career paths have landed them in their current careers. I think it's fascinating to see how different skillsets from people's former careers combine into what they currently do.
What skills have you developed through this experience?
On a personal level, I'm gaining the skills to work with different kinds of personalities to get the desired results needed for success. On a professional level, the skills I'm gaining are invaluable. I've been learning a lot about communications, social media, digital marketing, and what it takes to make an organization work. A lot of what makes an organization succeed is a really hard-working team dedicated to the not-so-sexy details and the organization's vision. The team at CAC is constantly immersed in both, so I get to learn and be a part of it, which has been really rewarding.
When you're not working, what do you enjoy doing around Cleveland?
Hmmm… there's so much to do in Cleveland, especially in the summer! Case Western Reserve feels like home to me, so I love spending time in greater University Circle. I like going to different art events throughout Cleveland—Ohio City Stages, Walkabout Tremont, Wade Oval Wednesdays, and the list goes on and on. I also really like going to Lake Erie and watching the sunset, going for a run on North Park Blvd. and in the MetroParks, and trying out new food places!
What are your career goals after college?
After I graduate, I hope to work for a year abroad and then come back to the US and get a terminal graduate degree. I've been toying with the idea of getting my MBA, JD, or maybe a Master's related to nonprofits. It's hard because there are so many great options. At the core of my careers goals is helping people—I really think that's the most important thing to me. The million-dollar question is how I decide to do that.
What's your favorite public space in Cleveland? 
My favorite public space in Cleveland is probably Wade Lagoon. Throughout all the seasons, it is so beautiful! The lake sometimes reflects the sun or the Cleveland Museum of Art! In the spring, the trees have blossoming flowers and in the fall, the trees are turning. It's a good place to have a picnic or go for a run.
Where would you take a friend who is visiting Cleveland for the first time?
I would take them to Edgewater for a beach day and then to the Flats and Ohio City in the evening. There's so much to do in the Flats and in the summer when it's warm you can walk to Ohio City. It would be the perfect Saturday.
What advice would you give to someone considering applying for the Cleveland Foundation Summer Internship program?
Be open to new experiences. You're going to meet a bunch of awesome people, so make sure you keep in touch with them. It's going to be challenging at times, but it will also be a lot of fun! Keep an open mind and push yourself to try new things.