Our #SummerOfPurpose blog series follows this year's Cleveland Foundation Summer Interns as they spend 11 weeks working with Cleveland-area nonprofit and public sector organizations. In today's blog, we hear from Sarah Pincus, who is working with Maximum Accessible Housing of Ohio, where she researches, presents activities, and creates resource materials that help to build awareness of accessibility needs.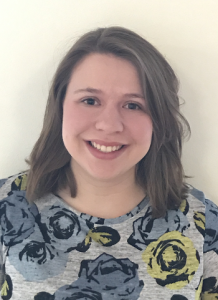 Sarah Pincus
College: Binghamton University
Hometown: Beachwood, OH
Internship Host Site: Maximum Accessible Housing of Ohio
How did you first hear about the Cleveland Foundation Summer Internship Program?
I read about the internship online a couple of years ago and had been looking forward until I was eligible to apply!
Why did you initially decide to participate in this internship program?
I plan on pursuing a career in the nonprofit sector and I thought this internship would be a great opportunity to gain exposure to the field. I also thought it would be a great opportunity to contribute to Cleveland in a meaningful way.
What has been the most valuable aspect of your internship experience?
I have loved being a part of our cohort and learning about the work that everyone is doing at their respective host sites. It has been an incredible opportunity to learn about many different nonprofits that all play an integral role in making Cleveland what it is today. It has also been really interesting to learn about the different types of nonprofit organizations and the interplay between the government and the nonprofit sector.
What has been the most challenging aspect of your internship experience?
I have many long-term ideas, but I know that I will not be here to see them to fruition. Despite that, I still need to be forward thinking and appreciate the long-term goals of the organization.
When you're not working, what do you enjoy doing around Cleveland?
I enjoy walking around Chagrin Falls and, in nice weather, going down to the falls. I love the character of the old buildings and the relaxing atmosphere.
What are your career goals after college?
I am on an accelerated track for a Master's in Public Administration. After that, I hope to use what I have learned and start working in the nonprofit field. I am open to working with different populations and I hope to find a job that allows me to utilize my strengths to best serve the community.
How has this internship helped you grow professionally?
This internship has helped me to develop skills that are necessary to be successful in the professional world. I have gained experience writing professional emails and letters, writing program development proposals, and have developed strategies to prepare for meetings and then process the information after the meeting.
What's your favorite public space in Cleveland? 
My favorite public space(s) in Cleveland would definitely be the Metroparks. I love being able to drive just a couple of minutes and be in the middle of nature.
Where would you take a friend who is visiting Cleveland for the first time?
Whenever anyone comes to town, a trip to Mitchell's a must. Their ice cream is so good and my friends are always impressed with the many unique flavors.
What advice would you give to someone considering applying for the Cleveland Foundation Summer Internship program?
Go for it! If you get in, amazing! If not, it is a really thorough interview process that will give you skills to be better prepared for future interviews.