Our #SummerOfPurpose blog series follows this year's Cleveland Foundation Summer Interns as they spend 11 weeks working with Cleveland-area nonprofit and public sector organizations. In today's blog we hear from Noni Thomas, who is working with Cuyahoga Community College Creative Arts Academy supporting program management, communications, reporting and strategic thinking processes for summer camps in the areas of dance, orchestra and jazz.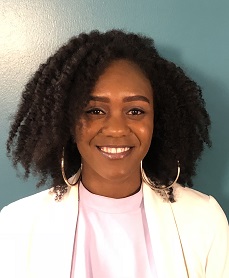 Noreen (Noni) Thomas  
College: Cuyahoga Community College Eastern Campus
Hometown: Cleveland, OH
Internship Host Site: Cuyahoga Community College Creative Arts Academy
How did you first learn about the Cleveland Foundation Summer Internship Program?
I first came across the Cleveland Foundation Summer Internship Program last summer. At that time I had just wrapped up my online dance appreciation class with Professor Sarah Carey. So inspired by my newfound knowledge, I reached out to Professor Carey and we discussed some career options in the arts management field. She encouraged me to apply for several internship opportunities, with the Cleveland Foundation being at the top of her list.
What has been the most valuable aspect of your internship experience?
I have to say that the most valuable aspect has been working with the children involved in the Community Dance Mastery Summer Camp. I find such joy instructing them while helping boost their self-esteem and confidence during our activities. Also, I gained a massive sense of fulfillment and pride when I was asked to put together the program for the Community Dance Mastery Summer Camp in under a week. I worked directly with coordinator Karah Vance and my director and supervisor Emanuela Friscioni. After 3 or 4 revisions I was able to view the final results. I felt so proud of myself as I reminisced on the small challenges I faced and the teamwork I experienced to produce such great quality work.
What skills are you hoping to develop through this experience, and how do you hope it will help you grow professionally?
Some skills I hope to continue to develop throughout my internship experience include marketing, community engagement, production and tech, and programming. All of these are crucial to a thriving and successful career in arts management. This internship will help me grow professionally by allowing me the freedom and creativity to problem solve on the spot and execute tasks that pertain to my career field.
What are your career goals after college?
After I graduate from Tri-C, I plan to attend Baldwin Wallace University, where I will declare a dual major in arts management & entrepreneurship with a minor in dance. After I graduate with my bachelor's degree, I plan on participating in The Downtown Brooklyn Arts Management Fellowship Program, a 6-month paid fellowship. The fellowship offers opportunities to work on separate projects with Theatre for a New Audience, The Museum of Contemporary African Diasporan Arts, Mark Morris Dance Group, and BRIC. After gaining this experience I plan to get a dual Master's Degree in Arts Management & Art History while working toward an Executive Director position (eventually leading to President) at an arts organization or company.
When you're not working, what do you enjoy doing around Cleveland?
When I am not working, I enjoy going to The Cleveland Museum of Art and attending their weekly community events.
What is your favorite public space in Cleveland?
My favorite public space in Cleveland is Edgewater Beach.
What advice would you give to someone considering applying for the Cleveland Foundation Summer Internship Program?
I would first say, 'Congratulations!' By applying for this great opportunity, you have already manifested a victory in your life. Secondly, make sure to take several months to prepare your essay, letters of recommendation, resume, and any other documentation you need in order to start the application process. Be patient because the application process takes a couple months. Lastly, when it comes to picking your host site, read all the information carefully and always have your career goals and passions in mind when determining who you would potentially like to work with. Think about the types of skills you want to gain and which host site is capable of helping you to acquire these skills.