Our Common Ground day of community conversation returns for its third year on June 30, 2019! In this blog series, we're featuring the stories of people who have hosted Common Ground conversations in years past. In this guest blog, Sharie Renee of Cosmic Bobbins reflects on her experience as a Common Ground host.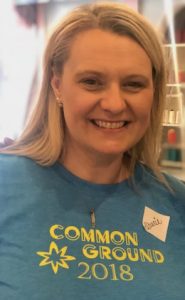 Name:  Sharie Renee
Profession: Social entrepreneur
Neighborhood: I live in the St. Clair- Superior neighborhood and hosted Common Ground at Cosmic Bobbins in Shaker Square.
What motivated you to participate in Common Ground 2018?
This is the second year that we have participated as a Common Ground host. Our organization is committed to creating a diverse and global community, where social good is a part of daily life. Common Ground creates a larger, open invitation to share in that idea. It's wonderful to welcome the community into our space, share a meal, engage, and connect in a meaningful way.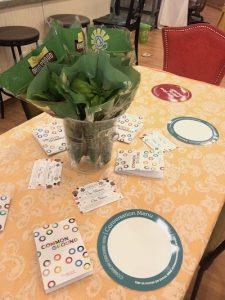 What are some of the community issues you discussed at your Common Ground conversation?
People talked about neighborhoods, events, safety, education, and shared life experiences. We shared the work of social enterprises and attendees shared some of the efforts they are taking on in their communities.
What did you hope to accomplish by hosting your conversation?
It is such a privilege to host and connect with our neighbors and visitors in a cultivated setting. I hope that all attendees and participants made a meaningful connection. Whether it was to someone they didn't know, a new place, or if neighbors were inspired to act together in their community. To find "Common Ground" (whatever that was for each individual) was my hope for everyone.
What's your favorite memory from Common Ground? 
Only one?! I have so many! Seeing all the beautiful faces that attended our event was such a gift and sharing in a meal prepared by our featured sponsors, all local social enterprises or sustainably-minded businesses. We had food from our neighbors, Edwins and Fire, Bloom Bakery, Green City Growers, Ujima Refresh, Lutheran Metropolitan Ministry's Central Kitchen, Peaceful Fruits, Community Greenhouse Partners, Rising Star, and Storehouse Teas.
We even had wheat grass shots from YEFGC (Young Entrepreneurs for Global Change.) We screen-printed tee shirts with all our sponsors and the Common Ground logo and gave them to everyone, along with a "living basil" plant from Green City Growers. It was magical to see the outpouring of support for our event, to see the community really come together. It truly felt like a 'Community Benefit.' My other favorite part was having the opportunity to create space for our Summer on the Cuyahoga intern, Olivia (from the University of Chicago) to lead and facilitate the community conversation. The empowerment of "finding place" for everyone through our connectivity was transformational.
What has been the most valuable aspect of participating in Common Ground?
Creating a place to honor all voices. 
Want to learn more about Common Ground? Visit www.ClevelandFoundation.org/CommonGround.