People with disabilities face a higher risk of serious health problems from COVID-19. To help organizations serving this population during the current pandemic, the Greater Cleveland COVID-19 Rapid Response Fund awarded a $100,000 grant to support a consortium of nonprofit service agencies in Cuyahoga County to purchase PPE for their collective 2,600 staff serving more than 1,600 clients with intellectual and developmental disabilities and other related challenges. In this guest blog, Melanie Hogan, Executive Director of LEAP (Linking Employment, Abilities and Potential), and Tony Thomas, Executive Director of Welcome House, talk about the challenges that organizations like theirs are facing and how the Rapid Response Fund grant is helping them protect their clients and staff.   
What is your organization's mission, and how do you serve Northeast Ohio?
Melanie Hogan: LEAP's mission is to advance a society of equal opportunity for all persons, regardless of disability. We do this by assisting people with disabilities* to become active participants in community life through information, education, training, and recreational opportunities; eliminating barriers to health care, income supports, employment and community inclusion; and advocating on behalf of persons with disabilities to promote equitable access to resources and services. Currently, LEAP's staff are working remotely and are continuing to provide a majority of our services virtually.
*A person with a disability is anyone with a physical or mental impairment that substantially limits at least one major life activity, such as breathing, walking, talking, hearing, seeing, sleeping, caring for one's self, performing manual tasks, and working. As defined by the Americans with Disabilities Act, major life activities also include major bodily functions such as immune system functions, normal cell growth, digestive, bowel, bladder, neurological, brain, respiratory, circulatory, endocrine, and reproductive functions. Generally, anyone who was born with a condition or has acquired a disease, illness, or chronic condition has a disability.
Tony Thomas: Welcome House is one of the original community-based service providers in Cuyahoga County. We opened the first group home for men in 1981 and have grown to be one of the largest service providers in the county. We support 220 persons with intellectual or developmental disabilities (IDD) and currently have 48 group homes and community housing arrangements. Our mission is to support persons with developmental disabilities in a family atmosphere with the warmth of a caring community. Our agency also helped to create a local provider group of organizations all serving persons with developmental disabilities. This group is called the "Developmental Disabilities Provider Consortium." The consortium represents 16 of the largest providers in Cuyahoga County and serves over 2,200 persons with IDD.
How has the COVID-19 pandemic affected the people you serve, and how has the pandemic changed your operations?
Melanie Hogan: People with disabilities are the most overlooked and misunderstood of our vulnerable populations. Adults with disabilities are at a higher risk of infection for many reasons. For example, adults with disabilities are three times more likely to have heart disease, stroke, diabetes or cancer than adults without disabilities, and those underlying medical conditions put people at higher risk of infection or severe illness. People who have limited mobility cannot avoid coming into close contact with others, such as direct support providers and family members. People who may not be able to communicate symptoms of illness and people who have trouble understanding information or practicing preventive measures (such as hand washing and social distancing) are at higher risk. People with disabilities who are living in the community have a harder time accessing resources (e.g., food and medicine), managing their bills and sustaining their in-home care. In this crisis, people who have lived their lives with chronic conditions are now in fear for their lives, not only because of the virus, but because they wonder whether they will even be considered treatable if they get sick.
Tony Thomas: Since this pandemic began, our operations have been severely challenged by the potential spread of this deadly virus. We have determined that our clients with IDD are more susceptible to this virus, just like they are more susceptible to the general flu virus. Most developmental disabilities agencies have limited supplies of PPE that we use during normal flu seasons. But once the pandemic struck, we needed more PPE than ever before to protect both staff and clients who are now all at home. We deeply appreciate the support of the local philanthropic community in providing our local provider group with a $100,000 grant. With this grant we are securing N-95 masks to provide to all staffs in all agencies.
What can the community do to support your work? 
Melanie Hogan: Everyone knows someone with a disability. Find out what agency is supporting that person and give a donation in their name. To donate to LEAP, persons can visit our secure, online donation web page here. Donate to organizations that are on the frontline of community-based services, supporting people with disabilities who are more isolated than ever right now. Individuals can convert their credit card points and airline miles to provide cash or gift cards to agencies that are supporting people with disabilities. Businesses can provide funding, donate gift cards or donate products. Contact local organizations to find out what is most useful to the people they serve. Know that organizations like LEAP are more than likely providing a service to someone you know and love. A simple thank you will go a long way.
Tony Thomas: I believe what the local philanthropic and business community is doing is a tremendous asset to the Cleveland nonprofit community. What we need from the community first and foremost is recognition that persons with developmental disabilities are extremely susceptible to COVID-19. Our agencies must, and this is an absolute, keep persons with IDD at home and in an isolated fashion. This means that no family can visit, no administrative staff can visit, and no outside vendors can visit. This is a huge change (and challenge) for our clients and staff. We cannot even take our clients to the grocery store. What the community can do is to both understand this and offer support for our clients and homes that includes making some meals for them, dropping off supplies to the homes, and offering to make masks for the staff and clients in our homes. You can make an online donation to Welcome House here.
Can you share any stories of kindness you have seen in the midst of this crisis?
Melanie Hogan: During times of uncertainty, it is easy to let the waves of emotion overtake you. Growing up, we all heard from Mr. Rogers to "look for the helpers" when times are challenging and scary. The impact of COVID-19 around the world has shown a spotlight on the helpers who are working to ensure that everyone has a fighting chance. The LEAP team did not have to look very far to find the helpers, as our team are the very people helping to ensure individuals with disabilities are not marginalized or forgotten. From helping to secure funding for personal protection equipment (PPE) for members of the Developmental Disabilities Provider Consortium of Cuyahoga County, to our adaptive recreation program pivoting to provide digital engagement and activities to our participants, and to hearing how our employment consumers are thriving in their stable employment positions during a time of instability – no matter where you look, the LEAP team continues to be a leading provider of disability support services in Northeast Ohio. While the team has been very busy working to ensure that our consumers and participants maintain their mental and physical wellbeing, we still found the time to celebrate our beloved staff member Gary's 70th birthday! LEAP would not be able to provide the impactful services to people with disabilities if it were not for our generous funders, who help to ensure that even during times of uncertainty, we are still able to carry out our mission. During times of uncertainly, look for the helpers, look to LEAP!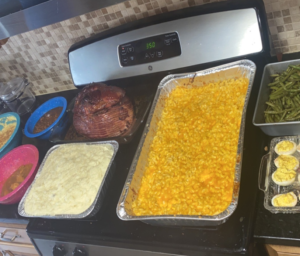 Tony Thomas: Our staff and families have been amazing! There have been many acts of kindness and generosity. One supporter of Welcome House provided huge bags of food and $100 gift certificates for the staff in three homes that we operate, and we've had families deliver meals and desserts to several homes. We created some arts and craft bags with plenty of supplies so staff and clients could work together on some unique and creative ideas. Giant Eagle prepared and heavily discounted over 500 Easter meals so that 48 homes, 220 clients, and our staff could celebrate. One staff member went totally out of her way to create a special Easter meal for the four ladies she supports in one of our homes. She had the ladies of the home help prepare all of the food (pictured), and then had the ladies call all their families to say thanks and happy holidays. I have been amazed at how supportive and creative our staff have been in this pandemic.
Want to learn more? Here are two compelling articles that highlight the issues that people with disabilities face on a regular basis – and how this crisis has made it so much more challenging: