Our #SummerOfPurpose blog series follows this year's Cleveland Foundation Summer Interns as they spend 11 weeks working with Cleveland-area nonprofit and public sector organizations. In today's blog we hear from Joshua Pugh, who is working with Geauga Growth Partnership, Inc. (GGP) to support the transition to a new customer relationship management system and engage alumni of GGP's high school internship program.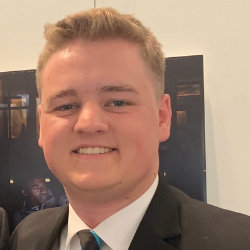 Name: Joshua Pugh
College: The Ohio State University
Hometown: Mentor, Ohio
Internship Host Site: Geauga Growth Partnership, Inc
Why did you initially decide to participate in this internship program?
Nonprofits and community service have been a huge part of my life ever since I was young, and even more now, due to my involvement at Ohio State and my passion for this area. I was looking for opportunities for professional experience when I found this internship. I knew it would be a great way to gain valuable experience and build my skills and knowledge.
What has been the most valuable aspect of your internship experience?
The most valuable aspect of my internship has been the knowledge and skills that I have developed and absorbed since the beginning of June – not only from GGP but also from the Cleveland Foundation. This is my first true internship experience and I have been able to soak up so much valuable information about nonprofits and professional development through my work, the cohort days, and networking with Cleveland Foundation staff.
What has been the most challenging aspect of your internship experience?
This will probably be the most typical answer from this year's internship cohort, but the most challenging aspect has been working remotely and virtually. I was really looking forward to having a true professional internship this summer, but I am just grateful that the foundation still went forward with the program by moving everything to a virtual format; GGP has been very open and supportive the entire summer.
When you're not working, what do you enjoy doing around Cleveland?
When I am not working, I enjoy exploring the different parts of Cleveland, such as Ohio City, the Flats, and Tower City. There is so much to explore downtown that I still have not been everywhere even though I have lived close to Cleveland for almost my entire life. Also, if this was any other year, I would be cheering on the Cleveland sports teams, even though they have provided me with a huge rollercoaster of emotions over the years.
What are your career goals after college?
After college I hope to continue my career in the nonprofit or public sector. I would love to do a Teach for America or AmeriCorps program for a few years, go back to school for an advanced degree, and then work in the nonprofit field and hopefully at the foundation one day.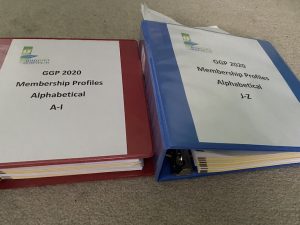 How has this internship helped you grow professionally?
This internship has really enhanced my professional skills in more ways than I could have hoped. Not only have I been able to see how a professional organization functions internally, but I have further developed my time management, communication, collaboration, and work ethic skills that I will be able to take with me to any job that I have in my future. I have also been able to absorb a lot of information about the nonprofit sector in general, about economic development nonprofits, and how to navigate this field that intersects with so many other sectors.
How has this internship helped you grow personally?
From this experience, I have learned so much about what I want out of my professional life. This internship has really confirmed my desire to work in the public and nonprofit sectors and it has helped me see the difference that people can make in their communities, which is something that I want out of a career.
What's your favorite public space in Cleveland?
My favorite public space in Cleveland would have to be Rockefeller Park. It is such a relaxing and peaceful area to walk around. It is close to nice shops and restaurants downtown while also having a youthful feel to it, which makes it a great area for young adults.
Where would you take a friend who is visiting Cleveland for the first time?
If a friend is visiting Cleveland for the first time, I would take them to Edgewater park. I believe this is one of the best parts of Cleveland, and the Cleveland script sign is iconic to the city. Then, since I love eating new foods, I would take my friend to the West Side Market to explore different options and then finish the day with the best ice cream ever at Mitchell's.
What advice would you give to someone considering applying for the Cleveland Foundation Summer Internship program?
No matter your experience, background and beliefs about your skills, do not hesitate to apply! I thought I was very underqualified and not ready for this experience, but it has been life changing in that I have learned so many different skills and have developed professionally and personally in so many different ways! Even if you figure out that you do not want to be in this sector, you develop numerous transferable skills that you could use in any job that you might have one day, which makes this experience worth it for any kind of person.