Our #SummerOfPurpose blog series follows this year's Cleveland Foundation Summer Interns, who spent 11 weeks working with Cleveland-area nonprofit and public sector organizations. In today's blog we hear from Arianna Killing, who worked with Cleveland Water Alliance, where she provided support for the launch of the Great Lakes One Water Smart Citizen Science project.
Name: Arianna Killing
College: Cleveland State University 
Hometown: Champion, Ohio
Internship Host Site: Cleveland Water Alliance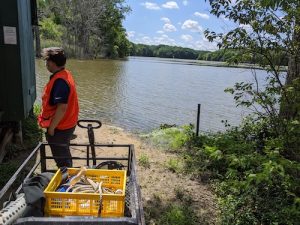 Why did you initially decide to participate in this internship program?
So many things about this program got me interested in participating. Mostly, I wanted career-related experiences that complemented the work I was doing toward my degree. The opportunity to work with the Cleveland Foundation and various local nonprofits was impossible to pass up.
What has been the most valuable aspect of your internship experience?
The most valuable part of this experience has been researching social justice aspects of my organization and working on recommendations to improve Cleveland's diversity and inclusion in the citizen science (volunteer-based research) space. I know the work I am doing will benefit scientific research and provide people from underrepresented demographics with opportunities they would not have otherwise (which go hand-in-hand).
What has been the most challenging aspect of your internship experience?
Even though it was difficult to adjust to, I found a lot of value in being able to work almost completely independently from home. It has taught me useful skills that I will continue to utilize throughout my career, like self-discipline and time management.
What are your career goals after college?
I am hoping to work in anything sustainability or social justice related. As long as I can help people and their community, I will feel accomplished.
How has this internship helped you grow professionally?
It has really shown me the resiliency it takes to work for a nonprofit. Circumstances change constantly, and it is important to learn how to work in those conditions. This experience has allowed me to prepare myself for unexpected experiences, like working from home.
How has this internship helped you grow personally?
It has made me feel comfortable and welcomed into the professional world. All of the staff members involved in the program, or at my host site, have continuously gone out of their way to ensure that I feel supported and appreciated for the work I am doing.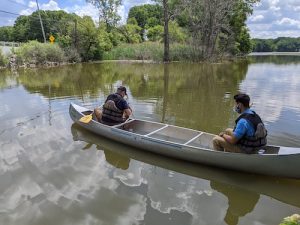 What's your favorite public space in Cleveland?
I love the East 9th Street Pier because it is a great combination of greenspace and the lake, while overlooking all of downtown. It is the perfect spot to go and relax with friends on a nice day.
Where would you take a friend who is visiting Cleveland for the first time?
It is always a challenge to decide what to do when people visit because there are so many possibilities. I would probably keep it simple and have them try restaurants like Ohio City Burrito, Sushi 86 or Barrio. Then, I would take them for dessert at Mitchell's Homemade Ice Cream to-go, so we could go watch the sunset at Edgewater and enjoy our ice cream.
What advice would you give to someone considering applying for the Cleveland Foundation Summer Internship program?
I would encourage anyone to apply. Interns come from so many backgrounds with varying majors, but we have all benefitted equally from our experiences in this program and with our host organizations. It has been so nice to have so many other people my age going through the same experiences as a cohort. Even though this program is notoriously competitive, just be your genuine self because it makes a huge difference throughout the hiring process. Good luck!