Our #SummerOfPurpose blog series follows this year's Cleveland Foundation Summer Interns as they spend 11 weeks working with Cleveland-area nonprofit and public sector organizations. In today's blog we hear from Jordan Berkovitz, who is working with Engage! Cleveland, playing a central role in the marketing, planning and execution of Cleveland Young Professionals Week.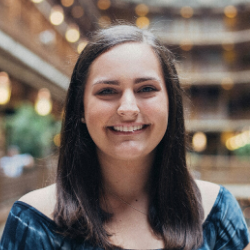 Name: Jordan Berkovitz
College: The Ohio State University
Hometown: Solon, Ohio
Internship Host Site: Engage! Cleveland
Why did you initially decide to participate in this internship program?
I decided to apply to this program because I thought that it fit my career aspirations perfectly. I knew that I want to work for a nonprofit after I graduate, and I am also super passionate about the Cleveland community. I knew that this program combines nonprofit and public sector work as well as greater exposure to Cleveland and all of the work being done by so many organizations, so I thought it would be a great learning experience.
What has been the most valuable aspect of your internship experience?
I have found it so valuable that my Engage! Cleveland coworkers view me and treat me as an equal member of their team. This has enabled me to build confidence in myself and my abilities as an employee to be successful. I am so grateful for this aspect of my experience because my confidence as an employee was something I had been wanting to improve, and I feel so much more prepared to be successful in future positions.
What has been the most challenging aspect of your internship experience?
My internship has been entirely remote because of COVID-19. I found that it made it harder for me to understand my organization's culture and to bond with my coworkers, but everyone has been really great about trying to get to know me virtually. Remote work sometimes makes it hard to find a work/life balance, so I have to make a very conscious effort to separate my work time from my personal time. It's definitely a strange circumstance we're living in and adjusting to, but I feel like I'm doing my best!
When you're not working, what do you enjoy doing around Cleveland?
One thing that we are so lucky to have in Cleveland, and that I have been trying to take advantage of right now, is the Metroparks system. My family and I have loved to take hikes there ever since I was little. When not living in a pandemic, I also love to check out different restaurants in the area or go window shopping in one of Cleveland's many neighborhoods.
What are your career goals after college?
After college, my goal is to work for a nonprofit organization in Cleveland. I am particularly interested in working in philanthropy and event planning for an organization that directly impacts the Cleveland community. I am super excited to see what my future has in store in this incredible city!
How has this internship helped you grow professionally? 
Through this internship, I have gained a ton of marketing and event experience – including many great skills to have under my belt. I have learned how to use different social media, graphic design, and event software platforms, engaged in the behind-the-scenes planning of huge events, learned how to craft engaging and effective social media posts, and so much more!
How has this internship helped you grow personally?
Prior to this summer, I was pretty sure of the career path that I wanted to take, but this internship has really confirmed that I am working in a field that I am passionate about and that is right for me. It was a very long and difficult journey for me to get to this place, so I am very thankful that this internship program has helped me find confidence in this decision.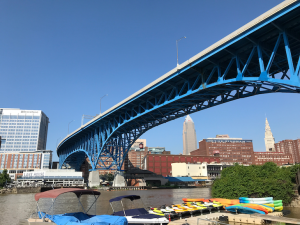 What's your favorite public space in Cleveland? 
My favorite public space in Cleveland would probably be The Flats. I love sitting by the water on a nice summer evening and being able to watch the boats and kayaks, and then being able to turn around and take in the Downtown Cleveland skyline and all of the cool bridges that go over the water. I love Downtown Cleveland because it really is the heart of our community and has such positive energy.
Where would you take a friend who is visiting Cleveland for the first time?
I would take someone who is visiting Cleveland for the first time to Ohio City. This would include a visit to the West Side Market, a meal at one of the delicious restaurants there, a picture by one of the colorful murals, and, of course, a stop at Mitchell's Ice Cream for dessert.
What advice would you give to someone considering applying for the Cleveland Foundation Summer Internship program?
Make sure to spend some time on your application to ensure that your essay and materials are a good reflection of who you are as a person, and also be sure to take time to thoroughly prepare for your interviews. It will really make you stand out. Finally, don't forget to be yourself throughout the entire process!