Our #SummerOfPurpose blog series follows this year's Cleveland Foundation Summer Interns, who spent 11 weeks working with Cleveland-area nonprofit and public sector organizations. In today's blog we hear from Jenna Thomas, who worked with the Greater Cleveland Food Bank, where she collaborated with partner agencies to expand the capacity of the food bank's retail donation program and assess agency capacity to engage in food policy and advocacy efforts.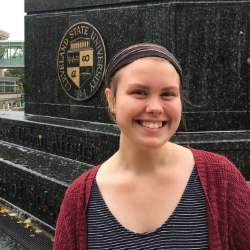 Name: Jenna Thomas
College: Cleveland State University   
Hometown: Lakewood, Ohio
Internship Host Site: Greater Cleveland Food Bank
What has been the most valuable aspect of your internship experience?
Calling this summer unpredictable would be an understatement. It has been a wonderful learning experience in self-accountability, focus, and working in less-than-ideal conditions.
Being able to see and participate in the inner functions of a massive nonprofit like the Greater Cleveland Food Bank has given me a valuable perspective on what it takes to provide these services. I have a great appreciation for organizations that invest in advocacy as the Food Bank does because I believe long-term change involves policy. Since this is what I want to do as a career, it has been so wonderful to be able to see this firsthand.
Being able to meet the professionals and fellow students from all over the Cleveland Foundation's service areas has also been wonderful. I heard from and met with professionals I would never have come into contact with if it weren't for this internship. I'm also looking forward to the reunion my cohort has discussed so that we can meet in person post-Covid!
What has been the most challenging aspect of your internship experience?
Working through a pandemic is stressful. Yes―working remotely requires a lot of self-discipline and focus, not being able to meet your coworkers in person is a struggle, and missing out on some of the planned program opportunities was a disappointment. But ultimately, I think the greatest challenge has been working through the anxiety and fear of this pandemic. I think it is only fair to give ourselves some leniency and grace during this time―hearing death tolls every day and facing unprecedented hardship is not an easy weight to carry. The challenge of that experience should not be understated.
When you're not working, what do you enjoy doing around Cleveland?
The Metroparks have been a lifesaver during this quarantine. I have been trying to hit more trails and explore the many Metroparks our county has to offer. I love trying out new coffee shops around Cleveland as well.
What are your career goals after college?
I have loved working in the nonprofit sector, and more recently I have fallen in love with policy advocacy. I'd like to bridge the two and work in government relations, helping to facilitate more contact between legislators and their constituents, and advocating on behalf of nonprofits in Cleveland.
How has this internship helped you grow professionally?
Being able to watch and take notes on legislative testimonies at the statehouse and city council meetings as part of my job has been a dream come true. I have been itching to sink my teeth into studying policy and watching legislation go through the legislative process― so being able to do this a bit here and there has been AMAZING. I also have loved creating materials to make voter registration easier for pantries and Food Bank partners around Cleveland. It's helped me be better at synthesizing lots of information (there's so much involved in voting!) into digestible resources.
Where would you take a friend who is visiting Cleveland for the first time?
Morning: Enjoy breakfast crepes from the West Side Market and then go out to Whipp's Ledges in Hinckley. It's a drive out of the city, but nothing beats those views in autumn!
Afternoon: Explore University Circle, including the Cleveland Museum of Art and moCa Cleveland. Eat lunch at Mama Santa's in Little Italy and stroll down the Cleveland Cultural Gardens on MLK Blvd.
Evening: Get tickets to a local show at the Near West Theatre or Cleveland Public Theatre, play pinball next door at Superelectric Pinball Parlor, and close the evening out with ice cream at Sweet Moses.
What advice would you give to someone considering applying for the Cleveland Foundation Summer Internship program?
Don't underestimate or undersell yourself. It's not easy to get on-the-job experience as a young person, and the skills you've gained from past internship and job experiences, or from being a student, are significant. Even though you are young, you are valuable―act like it! Don't be afraid to take on a challenge.