The brothers of Alpha Phi Alpha Fraternity Inc. may have come to the city of Cleveland from different colleges, in different years and from different places in life, but the common bond of service that first inspired them to join continues driving them to help make their community a better place.
For the brothers of the Cleveland Chapter of Alpha Phi Alpha Fraternity Inc., Delta Alpha Lambda, the call to service has been stronger than ever as they help their community cope with the ongoing impacts of the COVID-19 pandemic.
"When the pandemic hit, initially we were as stunned as everybody else," said fraternity brother Clarence McElrath. "But we were quick to focus on our true mission."
McElrath was introduced to the Alphas at Cleveland State University and officially joined the fraternity—the country's first intercollegiate historically Black Greek fraternity—when he transferred to Youngstown State. "I could only see myself fitting in with the Alphas," he said. "And it wasn't just because I had friends in the organization. Talking with the leaders, the advisors, the other members—my demeanor and personality just fit." He has been actively involved in the local chapter since moving back to the Cleveland area after college.
The legacy of leadership, both on campus and off, appealed to fraternity brother Dr. Lateef Saffore, who joined while obtaining his bachelor's degree at West Virginia State University. "That level of leadership resonated with me," Dr. Saffore said. "I just saw a kinship."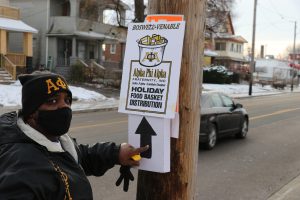 180 active members strong, the Delta Alpha Lambda Chapter under the Leadership of President Lester Holmes is dedicated to breaking the cycle of generational poverty in Greater Cleveland. In addition to regular food drives throughout the year, the chapter distributes hundreds of food baskets every holiday season. It provides scholarships for college-bound students, runs programs for older adults and supports workforce development initiatives. The chapter established a donor advised fund at the Cleveland Foundation in 2019 to support its work in the community. And at the start of the COVID-19 pandemic, they were quick to mobilize additional services in response to the crisis, working to secure food, cleaning supplies and PPE for residents across the Greater Cleveland area.  
When a local food bank was forced to close down due to the pandemic, the chapter worked with the Hunger Network of Greater Cleveland to open a food pantry at its 116th Street headquarters in Cleveland's Buckeye neighborhood.
In March and April of 2020, Delta Alpha Lambda brothers delivered food to 50 senior households in Buckeye and partnered with Cleveland Clinic to distribute additional food and PPE to 500 families.
In June, the chapter partnered with Burten, Bell, Carr Community Development Inc. to give away 200 lunches and masks to community residents at the 116th Street headquarters. Later that summer, the chapter hosted a community check-up event in partnership with the Cleveland Alumnae Chapter of Delta Sigma Theta Sorority and Ward 6 Councilman Blaine Griffin that included free COVID-19 testing, census enumeration, voter registration, and the distribution of PPE and fresh produce.
In addition to helping their neighbors meet immediate needs, the chapter was still able to advance its national initiatives during the pandemic, including raising nearly $1,000 by participating in the virtual March of Dimes walk, distributing more than $5,000 in scholarships to high school seniors in the summer of 2020. They also hosted their first-ever virtual Project Alpha event, a regular series of educational workshops aimed at helping young men make smart choices, in partnership with the Alpha Omega and Lambda Phi Omega chapters of Alpha Kappa Alpha Sorority, Inc.
The chapter also maintained its A Voteless People is A Hopeless People program, which encourages people to exercise their right to vote. Voter engagement efforts are a priority to the fraternity every year, McElrath said, and the efforts felt even more critical this year. "We could feel a sense of urgency," he said. "It's important to get people to understand that the only way things are going to change is you have to go to the ballot box."
The fraternity's robust network in Greater Cleveland has helped it maximize its impact, and its members remain dedicated to helping their community weather the pandemic and emerge stronger.
"When you've got a force of people behind you, you can make a bigger impact than you ever could on your own," McElrath said.
A donor advised fund at the Cleveland Foundation can be a great charitable tool for groups like the Delta Alpha Lambda Chapter of Alpha Phi Alpha Fraternity Inc., as well as individual philanthropists, who want active involvement in their grantmaking. Interested in establishing a donor advised fund at the Cleveland Foundation? Learn more.