Our #SummerOfPurpose blog series follows this year's Cleveland Foundation Summer Interns as they reflect on 11 weeks spent working with Cleveland-area nonprofit and public sector organizations. In today's blog, we hear from Elizabeth Keller, who spent her summer at the Literacy Cooperative, where she supported the Dolly Parton Imagination Library program and assisted with fundraising efforts. 
Name: Elizabeth Keller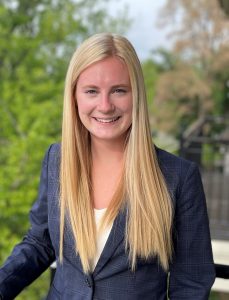 College: Case Western Reserve University
Hometown: Aurora, Ohio
Internship Host Site: The Literacy Cooperative
Why did you initially decide to participate in this internship program? 
After working the previous summer in the private sector, I was curious to see where a different path could lead me. I was recommended to apply by a friend and alumnus of the program who had just as incredible of an experience as I did. I have always had a deep passion for serving the Greater Cleveland community, and this was a perfect opportunity for me to do good while exploring career options in the nonprofit sector.
What has been the most valuable aspect of your internship experience?
Over the span of my internship, I worked on two main projects for The Literacy Cooperative. The first was daily operations and outreach efforts in support of Dolly Parton's Imagination Library, a program that sends free books every month to children from birth to 5 years old. This was so rewarding because I knew every ounce of work I was putting in resulted in a child receiving the gift of literacy. I was able to understand the deep benefits of children being read to and realized how much it can benefit local families in the long run. My other main project was in the department of development, and I worked on researching possible prospects for the future of their fundraising efforts. This allowed me to see the deep roots of philanthropy in Cleveland and how those more fortunate truly believe in lifting others up in the midst of their success. Both projects were very meaningful and valuable to me, and I hope to involve aspects of both in my career going forward.
What has been the most challenging aspect of your internship experience?
I already had an idea of the literacy gap in Cleveland, but learning more and more about the problems illiteracy brings for people from day to day was very eye-opening. It was also a very challenging problem to grapple with, especially because I have been so fortunate to grow up in a town where I didn't see it at all. Yet, there are people suffering less than 45 minutes away from me because they can't read. Although this was very difficult to sit with, it was more motivating than anything. Being able to work toward solving this problem every day was more rewarding than it was challenging.
When you're not working, what do you enjoy doing around Cleveland?
Living in University Circle is wonderful because there is so much to do! I love going on runs through the cultural gardens, eating in Little Italy, or taking the short drive to Edgewater!
What are your career goals after college?
I hope to go to law school right out of undergrad and then work in the field as long as time allows! In the end, I hope to work for a nonprofit organization like this and use my law degree for good.
How has this internship helped you grow professionally?
The different professional development days exposed me to the different positions that are possible to hold in a nonprofit organization. It was great to be able to ask questions to people with different responsibilities within a certain area of expertise.
How has this internship helped you grow personally? 
I also grew as a person by realizing that making a career out of a passion is possible – and that being passionate about your work can make it so much more enjoyable. When you think about it, a lot of time in your life is dedicated to working, so why not choose a profession that can bring you joy?
What's your favorite public space in Cleveland? 
I have always enjoyed Wade Lagoon near the Cleveland Museum of Art. I love how it changes so much during each season but is always beautiful.
Where would you take a friend who is visiting Cleveland for the first time?
Edgewater or Mentor Headlands park; I think people forget that we live on such a large lake and that it can feel very coastal at times.
What advice would you give to someone considering applying for the Cleveland Foundation Summer Internship program?
Even though the network created from the program will last, take advantage of all the connections you can make while in the midst of the program.
To learn more about the Cleveland Foundation Summer Internship Program, click here.