Our #SummerOfPurpose blog series follows this year's Cleveland Foundation Summer Interns as they reflect on 11 weeks spent working with Cleveland-area nonprofit and public sector organizations. In today's blog, we hear from Megan Fleisher, who spent her summer at Oh Sew Powerful Inc. where she helped to further develop their board and assist with updating their marketing communications, website and logistics processes.
Name: Megan Fleisher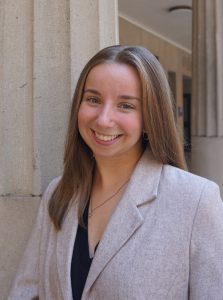 College: The University of Pittsburgh
Hometown: Cleveland, Ohio
Internship Host Site: Oh Sew Powerful Inc.
Why did you initially decide to participate in this internship program?
As a business school student, I was interested in diving deeper into what the nonprofit side of the business world looks like and how my skills might fit into the sector. I also wanted to leave a positive mark through meaningful work, and the Cleveland Foundation provided the perfect opportunity to explore the inner workings of Cleveland's nonprofit space while helping to support my home community.
What has been the most valuable aspect of your internship experience?
The most valuable aspect of my internship experience has been interacting with the community we serve through the "Creating Peace by Piece" program where I was able to learn how to sew. The work done at OSPI was made meaningful for me when I was able to interact with the participants benefiting from the program. I will never forget the people I have met and the skills I have gained. I will carry this sense of community and these lessons with me into the next chapter of my life.
What has been the most challenging aspect of your internship experience?
The most challenging aspect of my internship experience has been balancing the creative freedom I was given with my host organization's goals. I had to be a self-starter every day by evaluating next steps and areas for improvement throughout the organization and my project focus areas. I usually thrive off of structure, but I changed my perspective and found that the freedom to explore my own ideas actually expanded my creativity, not limited it.
How has this internship helped you grow professionally & personally?
Through the professional learning and development days throughout the summer, I was able to meet and network with nonprofit leaders from all over the city that serve a wide array of community needs. I found these sessions to be eye-opening because we were able to sit down in small groups and discuss the great work being done across our community. Additionally, I have gained more confidence in my own abilities to work independently and how to take an idea and turn it into a feasible project.
Where would you take a friend who is visiting Cleveland for the first time?
First, I would take them to Edgewater Park to see the park and to enjoy the view of downtown because I think that our extensive park system and vast freshwater supply are some of the city's greatest assets. Next, I would take them to University Circle to go to the art museum and eat at one of Cleveland's many delicious restaurants. I would also like to show them some Cleveland staples such as the West Side Market and Mitchell's Ice Cream in Ohio City. And of course I would have to show them my home neighborhood of Gordon Square with its many shops, restaurants, and iconic Capitol Theater.
What advice would you give to someone considering applying for the Cleveland Foundation Summer Internship Program?
Keep an open mind! Going into the application and interview process, you should choose your top 3-4 host organizations that you are interested in after evaluating where your skills and experience match best. By keeping an open mind about where you might be matched, you will be open to new experiences and have the opportunity to learn more than you think. Don't be afraid to step out of your comfort zone and try something new. This summer is about learning and soaking up every moment.
Learn more about spending a #SummerOfPurpose as a Cleveland Foundation intern.