Our #SummerOfPurpose blog series follows this year's Cleveland Foundation Summer Interns as they reflect on 11 weeks spent working with Cleveland-area nonprofit and public sector organizations. In today's blog, we hear from Mohamed Manaa, who spent his summer at Northeast Ohio Coalition for the Homeless where he developed a self-guided historical tour of Cleveland centered around housing and homelessness issues
Name: Mohamed Manaa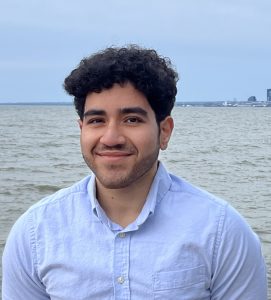 College: The Ohio State University
Hometown: Lakewood, Ohio
Internship Host Site: Northeast Ohio Coalition for the Homeless
Why did you initially decide to participate in this internship program?
I first decided to apply for the Cleveland Foundation internship program because of my interest in nonprofit organizations. I had volunteered at previous host sites in the past such as the May Dugan Center, but I desired something far greater than just volunteering. I wanted to work alongside the staff on a day-to-day basis and contribute on a much larger scale.
What has been the most valuable aspect of your internship experience?
The most valuable aspect of my internship experience has been the networking. Whether it was at NEOCH or the Cleveland Foundation, I met a myriad of passionate and dedicated individuals who all had my best interests at heart. The executive director at NEOCH, Chris, took great interest in my aspirations to go to law school, and connected me with others who could help me learn more about the process. My mentor at the Cleveland Foundation, Jason Weiner, extended his hand and introduced me to those he knew in local politics so that I could explore different career paths that I was interested in. Without this internship, I never would have had the pleasure of connecting with such influential figures in an integral part of my life!
What has been the most challenging aspect of your internship experience?
That has to be learning how to say "no." Getting involved was my number one priority when I first got to NEOCH, but I quickly learned that I wasn't going to be able to do everything that people offered. However, it was an important lesson to learn how much responsibility I could place on myself while still putting in 100% of my effort.
How has this internship helped you grow professionally & personally?
Professionally, this internship has strengthened my communication skills significantly. Going back to my response to what the most challenging aspect of this internship has been, being able to say no has been key to communicating effectively with my co-workers. Personally, I have been exposed to so many ideas and a new approach to pedagogy that have expanded my outlook on a variety of issues. My environment was conducive to civil discourse which allowed me to feel comfortable asking questions that I was hesitant to ask elsewhere. I was able to learn more about issues such as hostile architecture that are hidden in plain sight to most people, such as public benches that have seat dividers (which is why I am awkwardly lying down on a bench).
Where would you take a friend who is visiting Cleveland for the first time?
I would take them to the Cleveland Museum of Art! It has everything from contemporary to historic art, so there is something there for everyone to find interesting. It is also a bonus that right outside is University Circle, where you can enjoy the Cleveland Orchestra at Severance Hall or pay a visit to the Botanical Gardens.
What advice would you give to someone considering applying for the Cleveland Foundation Summer Internship Program?
Be consistent. Even if you don't have much on your resume, you can show them the value of your character through the writing prompts. It's important to keep your own voice and to be as honest as you can. The Cleveland Foundation looks out for that, and if you can manage to tell them who you are, they will appreciate that far better than you trying to write what you think they'd like to hear.
Learn more about spending a #SummerOfPurpose as a Cleveland Foundation intern.