Our #SummerOfPurpose blog series follows this year's Cleveland Foundation Summer Interns as they reflect on 11 weeks spent working with Cleveland-area nonprofit and public sector organizations. In today's blog, we hear from Geneviéve Carreño, who spent their summer at LatinUs Theater Company, helping  revamp their website and advance their digital marketing strategy.
Name: Geneviéve Carreño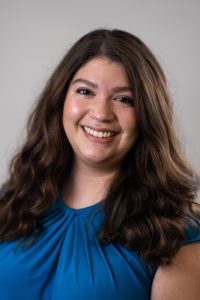 College: Baldwin Wallace University
Hometown: Goshen, Indiana
Internship Host Site: LatinUs Theater Company
Why did you initially decide to participate in this internship program?
A friend in my year and major at BW participated in this program last summer and had a great experience. Additionally, I knew that LatinUs would be a host organization, and I've wanted to work with them since I discovered them. The final (and maybe most significant) draw was that the experience was paid, unlike all my previous internships. These factors combined to present the perfect opportunity at the perfect time.
What has been the most valuable aspect of your internship experience?
The most valuable part of this internship experience has been connecting with my cohort and their organizations. It's been great to expand my professional network and learn about the important work and people in this community. I'm excited to see all that my peers will accomplish and support their careers.
What has been the most challenging aspect of your internship experience?
I think the biggest challenge of my internship has been figuring out my scope and authority as LatinUs' first-ever intern. It's a small and relatively new organization, so the book on how to do my job hasn't yet been written. Throughout the summer, my supervisor and I figured out a productive balance and relationship, but getting started in a position that had never existed before was challenging.
How has this internship helped you grow professionally & personally?
This internship has helped me grow in many surprising ways. Firstly, I was able to translate the skills and knowledge I've gained in other positions and apply it to the context and programs of LatinUs. Some things that I thought to be obvious in my roles at other organizations weren't as evident in this one, so I had to shift my thinking and cater to LatinUs' audience. I also learned much about networking, social justice, and the Cleveland community. Lastly, this internship inspired me to pursue freelance work as a digital marketing/social media consultant and informed me how I would want those experiences to go. I feel like I now have better resources and know more about my personal work style, which will benefit me as I begin this journey in my career.
Where would you take a friend who is visiting Cleveland for the first time?
I would take them to see a show at Playhouse Square! I love the access to professional theater that we have here in the city.
What advice would you give to someone considering applying for the Cleveland Foundation Summer Internship Program?
Prepare for your interview thoroughly. Know how to talk about your accomplishments, areas of improvement, previous leadership and learning experiences, and why you are the best person for the host site you'd like to work for. Ask questions, take notes, and show that you've done your research. After the interview, send a thank you email to your interviewers reemphasizing your enthusiasm about the opportunity.
Learn more about spending a #SummerOfPurpose as a Cleveland Foundation intern.