Cleveland Foundation announces $13 million in March grants to Greater Cleveland community
Education and youth development key areas for Q1 2017 support
release date: 3.16.2017
CLEVELAND – The Cleveland Foundation board of directors today announced more than $13 million in March grants to support residents in Cuyahoga, Lake and Geauga counties. This announcement completes the first quarter of funding from the Cleveland Foundation, totaling nearly $20.6 million invested since January.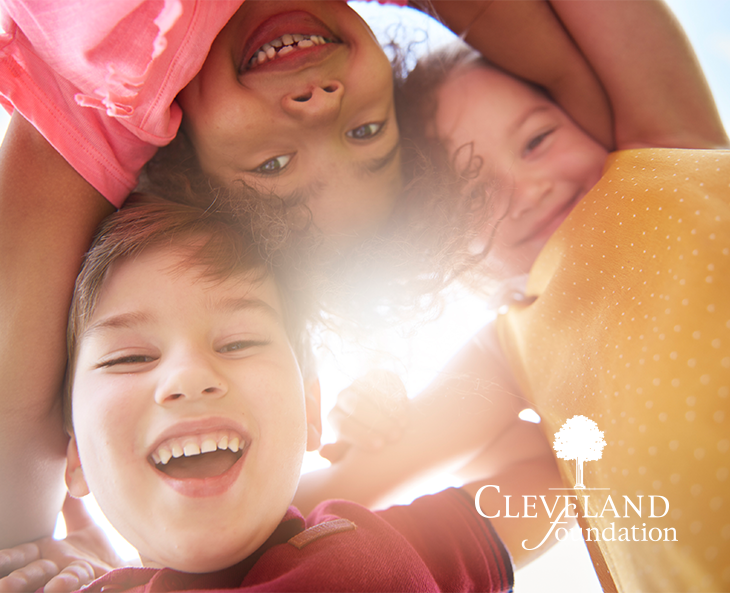 "The theme across our grantmaking this quarter is opportunity," said India Pierce Lee, Senior Vice President, Program of the Cleveland Foundation. "Our donors and our board of directors believe strongly that our community's future is dependent on the opportunities we create today for all of our residents. And these opportunities must start at an early age, which is why we are so pleased to announce new commitments in education and youth development in Greater Cleveland."
Highlights from this quarter's grantmaking include:
Education (In 2016, the foundation and its donors invested more than $21 million in education grants to the community.)
Educational Attainment: The foundation has granted $860,000 to College Now Greater Cleveland – the first college access organization established in the nation for a particular metropolitan area. College Now focuses on a critical issue – raising educational attainment levels in our community. Currently, only 20 percent of Clevelanders have earned an associate's degree or higher. By 2020, 64 percent of new jobs in Ohio will require a postsecondary degree or industry-recognized credential. Foundation funding supports:

Cleveland Metropolitan School District (CMSD) Advising: Support for College Now's 55 college access advisers and career pathway coaches, who work in the CMSD's high schools to provide research-based advising services to individual students. In the 2015-2016 school year, more than 92 percent of enrolled seniors were served through the program.
Cleveland Foundation College Now Scholars Program: Provides a cohort of 50 top-performing CMSD seniors with proactive, case management-style college advising services. Class of 2016 program participants enrolled in Barron's Top 4 Tier Colleges at 98 percent. The program has resulted in more than $6.5 million in first year financial aid.
Scholarships for CMSD Students: Provides 50 students with a personal mentor and renewable scholarships, each averaging $1,500 annually.
Adult Programs & Services: Supports personalized college access advising, student financial aid and loan counseling, and renewable scholarships and retention services for adult learners.
School Quality: The foundation has granted $175,000 to the Cleveland Transformation Alliance, which serves as a credible and forceful voice for school quality and an effective advocate for parents and students. The Alliance has four primary roles: (1) ensure fidelity to the Cleveland Plan; (2) assess the quality of all public schools in Cleveland; (3) communicate to parents about quality school choices; and (4) oversee the growth and quality of the charter school sector in Cleveland. Funding will help the Alliance continue its work as the trusted adviser on education reform in Cleveland and the go-to resource for families seeking information about public schools.
Teacher Support: The foundation has granted $250,000 for two programs that celebrate the vital role of teachers in the success of our schools. Launched in May 2016, the Excellence in Teaching Award recognizes and rewards CMSD teachers who demonstrate instructional expertise, creativity and innovation in their classrooms; who make learning engaging, vibrant and relevant for students; and whose work and accomplishments set a standard of excellence for all teachers. The foundation is continuing its support for year two of the program, which is managed by a committee comprised of staff from the CMSD, the Cleveland Teachers Union, the Cleveland Foundation and The George Gund Foundation. These same organizations are collaborating with the Mid-American Conference to design and implement a new teacher induction and development program, with the goal of helping new teachers commit to Cleveland and the Cleveland Plan.
Additionally, as part of the foundation's Encore Cleveland initiative, the board of directors approved more than $78,000 to Teach For America, Inc. (TFA) to continue the third year of its Encore mentorship program, which connects first year TFA teachers with experienced Clevelanders to support the teachers and connect them more deeply to the Greater Cleveland community.      
Youth Development (In 2016, the foundation and its donors invested more than $16 million in human services/youth development organizations.)
Youth Employment: The foundation has granted $200,000 to Youth Opportunities Unlimited (YOU) as it continues to manage one of the largest and best summer employment programs in Northeast Ohio. The funding will support the placement of at least 3,000 youth in summer employment opportunities in allied health, business and marketing, retail/sales, and the public and nonprofit sectors. These summer jobs help close the skills gap that exists between insufficiently trained youth and the needs of local employers by providing employability skills training, exposing youth to career pathways and helping businesses develop a much-needed talent pipeline.
Youth Engagement: In 2008, the Cleveland Foundation and its partners launched MyCom, a network of caring adults that work directly with young people to connect them to quality programs and opportunities in their neighborhoods. Now in its ninth year, MyCom serves more than 34,000 youth in 17 neighborhoods through year-round programming in youth employment, after-school activities, community service, youth engagement and leadership. The foundation has granted $1.03 million to the Neighborhood Leadership Institute (NLI) to continue to serve as the intermediary and lead agency for MyCom youth and neighborhood engagement. With this funding support, NLI will continue to serve all 17 MyCom neighborhoods (Central, Cudell, Clark-Fulton, Collinwood, Union-Miles, Bellaire-Puritas-West Park, Parma, Shaker Heights, Mt. Pleasant, East Cleveland, Glenville, Warrensville Heights, Tremont, South Euclid and Kinsman), expand into five additional neighborhoods (Maple Heights, Ohio City, Buckeye-Woodland, Lee-Harvard and/or Buckeye-Shaker, and Cleveland Heights) and provide youth engagement services and opportunities.
Youth Enrichment: As part of its Encore Cleveland initiative, the foundation approved $50,500 to Cuyahoga County Public Library (CCPL) to pair teens ages 11-18 with adults ages 50+ (via Greater Cleveland Volunteers) who have experience in the fields of Science, Technology, Engineering, Art & Design, and Math (STEAM). Encore volunteers mentor youth through digital tools and media-rich resources to help them deepen their understanding of and passion for STEAM. This grant will enable CCPL to expand opportunities for Encore volunteers to work at seven additional branches (serving a total of 21 branches). Additional partnerships in this expansion phase include NASA, Gigalearn and the Progressive Arts Alliance.
This grant also includes continued support for the Encore Entrepreneurs Series, which supports entrepreneurial growth and education for adults ages 50+ via a free series of six, one-hour weekly classes that provide introductory coursework on basic business concepts to help start the next chapter of their lives and improve the vitality of their community by launching a small business or creating a product through the newly created Innovation Centers.    
***
About the Cleveland Foundation: Established in 1914, the Cleveland Foundation is the world's first community foundation and one of the largest today, with assets of $2.1 billion and 2016 grants of $93.6 million. Through the generosity of donors, the foundation improves the lives of residents of Cuyahoga, Lake and Geauga counties by building community endowment, addressing needs through grantmaking, and providing leadership on vital issues. The foundation tackles the community's priority areas – education and youth development, neighborhoods, health and human services, arts and culture, economic development and purposeful aging – and responds to the community's needs.
For more information on the Cleveland Foundation, visit www.ClevelandFoundation.org and follow us on Facebook.com/ClevelandFoundation, Twitter @CleveFoundation and Instagram @CleveFoundation.