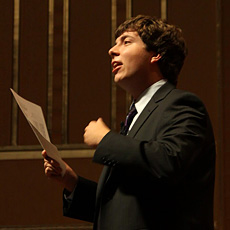 Among the many rewards of working here at the Cleveland Foundation, one that I particularly enjoy is the opportunity to have some connection to the Anisfield Wolf Book Award ceremony each year. If you don't know about this award (and shame on you if you are in the literary world and you don't), it is international in scope and the only award for books that contribute to our understanding of race and social justice and whose authors help us appreciate the rich diversity of human cultures.
The jury is distinguished beyond belief: the chair is Dr. Henry Louis Gates Jr. from Harvard; Poet Rita Dove, University of Virginia; novelist Joyce Carol Oates, Princeton; Steven Pinker, Ph.D., Harvard; and Simon Schama, Ph.D., Columbia. The award is administered by the foundation from a fund created in 1935 by the visionary poet, humanist and philanthropist, Edith Anisfield Wolf.
For the past several years the foundation has added the voice of a young person to those of the distinguished authors who read their work as part of the annual ceremony. In the past it was an elementary school student who had worked with local poet Katie Daley through our SmART in the City summer arts camp for inner city 5th and 6th graders. 
This year was special, however, it being the 75th Anniversary of the Award and we wanted something special. We found it in a gem of a young poet that we discovered through Young Audiences of Northeast Ohio's ArtWorks program. 
Kevin Ritter is a Senior at Lakewood High School. He spent last summer in the ArtWorks program studying theater and creative writing with local actor and performer Jimmie Woodie. I previewed some of Kevin's work in considering him for the awards ceremony and found his poems thoughtful, well-crafted and accomplished. But that wasn't good enough for him. He decided the occasion needed a new work, and in the space of a week he wrote a poem specifically for the ceremony. 
You can read about his experience and how he came to write the poem in his post on the Anisfield Wolf Book Award blog. It's a great story. You can also see and hear Kevin deliver his poem to the Severance Hall audience here. I've posted a few photos of Kevin on stage and with the Award winners as well.
I had a wonderful time working with Kevin and I know that he will go far with his writing and performing. He's off to college next year – but hasn't decided where yet. Here's his poem, titled 11:9 after the chapter in the Bible in which the story of the Tower of Babel appears.
11:9
by Kevin Ritter
There was a time when we were of one language.
We spoke and understood each other's words.
We understood what everyone intended to say.
How glorious it was!
How beautiful understanding is!
We tried to build a tower to reach God.
The tower reached towards the heavens.
God didn't like the tower very much
and took away our common language.
We couldn't finish the tower.
No one could comprehend.
Some called it noise.
Some called it miscommunication.
Some called it gibberish.
Some called it Babel.
But we managed;
we built temples, cathedrals, mosques
in praise of the God that created this earth,
even though we couldn't really agree
on who this being was:
what he or she looked like
or spoke like, or believed in.
We built libraries, schools
so that we might understand each other again,
even though we couldn't always agree
if it was worth the hassle of grasping
what someone else was thinking – saying;
the hassle of comprehending one another.
But we managed.
And one day we understood –
it wasn't about language.
That's a minor barrier to cross
compared to what it is
to understand someone else
without having met them
without having seen where they live
without having eaten their meals
without having looked out on their life
as we look out onto ours.
It was never about the language.
It was about building bridges, and tearing them down
and putting up walls, and tearing them down
and building towers and not being able to complete them
because we tore down the bridges
and put up the walls.
It was never about the language.
So come, build a tower with me.
Let me look into your eyes
and understand what it is to be you.
Look into my eyes
and understand what it is to be me.
It isn't about the language.