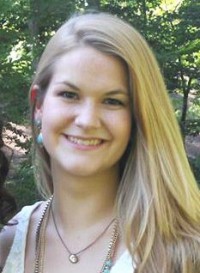 One evening, I found myself sitting at a stop light at Carnegie and E. 14th on my route home from work. As I sat waiting for the light to turn, my attention was redirected from the cars whizzing by to a large billboard displaying the following words: "Anything is possible if you believe, Believe in Cleveland. You'll see it, when you believe it!"
As an intern at the Cleveland Foundation this summer, I have had the privilege to gain a unique insider's perspective regarding recent developments that will soon call Cleveland home. Numerous nonprofits and corporations have collaborated in plans to make Cleveland a better city, and – as a result of my internship – I have had the opportunity to learn about those developments on a deeper, more involved level.
For instance, as I recently toured the new Ernst & Young building for a future Cleveland Foundation event venue, I had the opportunity to stand on the building's terrace, which overlooks the Flats East Bank. From this bird's-eye view, I realized just how much life and excitement Phase II of the Flats East Bank project will bring to the current desolate area in need of revitalization. On another occasion, the other interns and I had the opportunity to walk around Public Square during a professional development seminar to help brainstorm which aspects of the area work well as is and which aspects could be improved. We did this with the knowledge that our ideas could very well be used in future redesign plans for Public Square. Because of the developments I have been exposed to this summer, I have been able to see regions of Cleveland for what they can become post-development instead of solely for what they are in the present moment.
My experience as an intern was far from limited to learning about developments in Cleveland. I was also able to truly experience Cleveland for the first time in my life. As a native Clevelander, I have grown up and lived in the area throughout my entire life, but this summer was the first time I had learned to actually appreciate my city for more than just being my native metropolis. I have found that some Clevelanders have a negative attitude about the city, and, I admit, I used to have that same attitude. "Why would you move here?" was a question that I would commonly ask individuals moving to Cleveland from other regions. Instead of seeing Cleveland for the great city that it really is, I settled with the belief that Cleveland had little to offer residents, because I seldom heard the good things about Cleveland.
Moving forward – with a far different, and more enlightened, viewpoint – I will embrace Cleveland instead of putting it down. For the first time in my life, I can say that I truly love this city. I can envision myself remaining in the Cleveland area by choice – and not by default. Cleveland really does have so much to offer, and I refuse to ignore its invaluable qualities, which I never chose to acknowledge prior to my internship at the Cleveland Foundation.
So, you could say that the couple of minutes I spent waiting for that light to turn ended up being an "Aha!" moment for me. From then on, all of my experiences as an intern were shown in a new – and much brighter – light. Instead of those words simply being viewed as text on a billboard – text that, in all honesty, I probably would have overlooked prior to my internship – they now hold a fresh meaning. The words on that billboard spoke from the newfound attitude I now have about Cleveland: an attitude of appreciation, passion, and excitement. I have learned to believe in Cleveland this summer and, like the billboard says, I can now see Cleveland for the great city it is. My hope is that my fellow Clevelanders will learn to believe in Cleveland, too.
Each week we use this space to give each of our interns a chance to reflect on their internship experiences. Emilie is a student at Ohio State University. Placement: The Cleveland Foundation