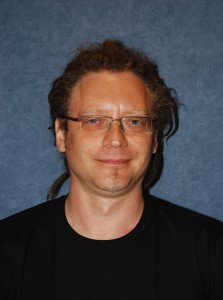 Przemyslaw Jasielski, or Przemo, pronounced something like pshemo came to Creative Fusion from Poland, bearing the most remarkable dreadlocks, an engineer's sensibility and an artist's sensitivity.  A graduate of the Poznen Academy of Fine Arts, Przemo creates installations, objects, drawings and photographs combining art with science and technology. The hallmarks of his work are scientific research, close attunement to place (geographic as well as historic), careful planning, intellectual and conceptual creativity and incredible craftsmanship.
His Creative Fusion residency was jointly hosted by the Sculpture Center and Cleveland State University.  While here, Przemo spent time getting to know Cleveland, responding to its its blue-collar roots, its 19th century immigrant population base, and its focus on its past.  From this inspiration he created a technology-free space, a room, a kind of haven for those who want to escape the constant onslaught of digital technology, if only for a moment.  In his own words, here is Przemo's concept for Analog Immigration, the work he created during his residency here. 
"Shortly after coming to Cleveland I realized that Clevelanders have a very specific sense of history. Whereas in Europe historical heritage is grounded in very old things and forgotten times, in Cleveland history is fresh — you can almost taste it or smell it. Most of the people I talked to explained things to me in an historical context, which is a very pleasant surprise to me. What is important is not remembering the good old days and complaining about the present, but to understand history as a continuum from the past to what we have now.
The second inspiration for the project was an idea created by Marc Prensky, the American thinker, dividing mankind into two groups: digital immigrants (individuals who grew up before computers were widely available) and digital natives (all who were born in the digital era).
Combining these two notions with the very present industrial character of this place I came up with the idea of 'Analog Immigration' – a specific back-in-time travel to the period when there were no digital devices. I'm going to create an environment that will allow viewers to experience the analog era – a place devoid of constant Internet access and cell phones.
With the help of CSU Sculpture students we will build a cubical wire-mesh structure inside the gallery. This structure, like a Faraday cage, will block and filter electromagnetic signals including wi-fi and mobile networks."
Przemo recently sent this video that chronicles the creation of the work.  In addition to the gift of his work, Przemo was generous with his friendship, his mentorship of students and his unique and very pointed sense of humor.  One example is the Jack-o-Lantern he carved during a Halloween get-together with the other artists.  After encouraging him to carve a scary pumpkin, Przemo came up with the scariest face he could imagine.  See for yourself.  
We will miss Przemo, as we miss all the artists who come, share and leave a part of themselves with us during their brief residencies.  But we remain grateful to Przemo for his unique contributions to all the artists and individuals he met and shared experiences with while here.